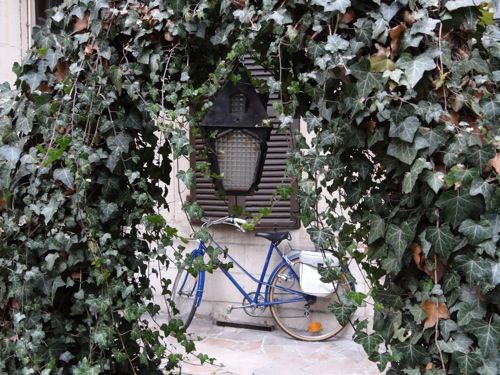 A courtyard well, overcome with ivy
On the first part of this walk I gave you an architectural tour. Now it's time for the little touches that brighten the day and make it feel like a neighborhood and not just another anonymous street.

It looks like on Wednesday and Thursday there's some kind of garage sale or moving sale. What I want to know is where do I go to learn to write in this beautiful French script I see everywhere.
We seem to have a blues club in the neighborhood, but since it was a Sunday morning it was dark and locked up tight. I'll have to check back later to see who's playing.
I don't understand the tradition of these stencils that show up everywhere. I've taken dozens of pictures – some humorous, some making political statements, some just honoring an artist. I have no idea what this whimsical fellow represents, but he makes me smile on a cold walk to the market. I'm sure he'll be gone by the time I return to France, replaced by another.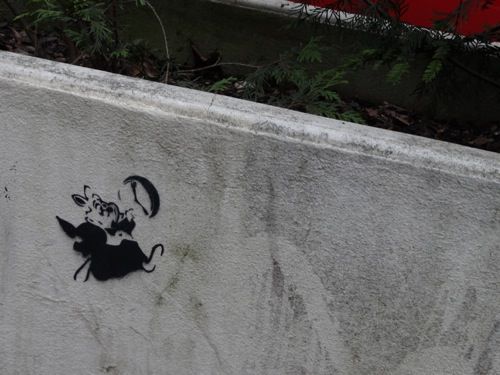 On a dreary winter day the moss shines on the large gate to one of many private high schools in the city. This massive entrance used to protect the nuns in the convent connected to the church, St. Michel, which dominates the neighborhood. It's a residential high school, with the students in another building across the street.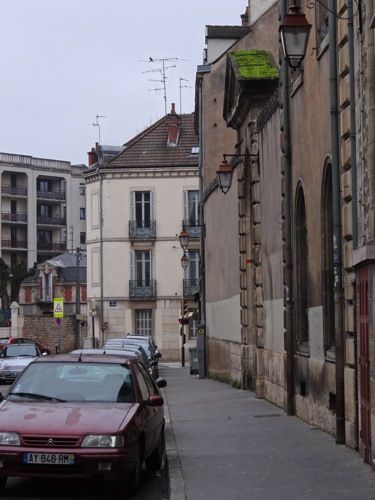 I'm not exactly sure what rules of parking are in operation here. I think I'll stick with finding a well-marked spot on the street. Perhaps this is why many of the sidewalks are made from that fine gravel like on a running track.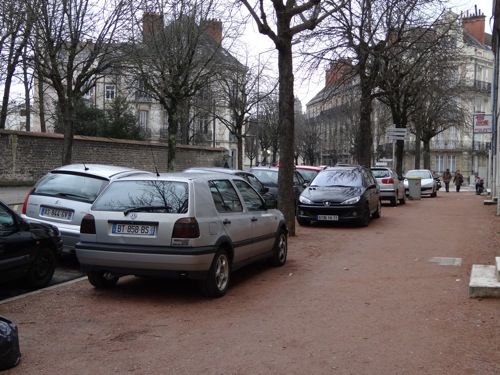 This absolutely confirms that Brad and I were right to buy this place. I guess I know where I'll find my drum-playing husband on Saturday afternoons when I get back from the market.
This final shot is one reason that a place like France draws me. Every little village has some kind of statue or tribute to their sons who died in war. I had crossed to the other side of my street and stopped for a moment to do something like put on my hat. My eyes went up to this plaque I had never noticed before.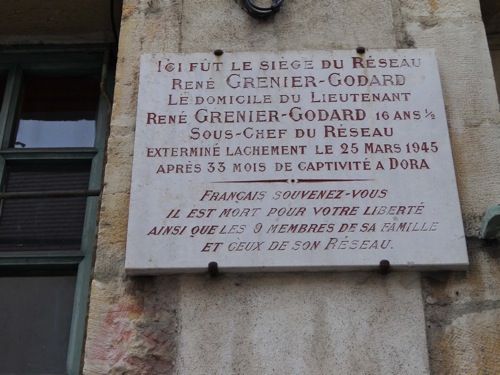 The translation says:

Here was the seat of the network

The home of Lieutenant
 René Grenier-Godard 16 1/2 years
Exterminated foully March 25, 1945

After 33 months of captivity at Dora

French people remember

and the nine members of his family

and those of his network

An internet search to learn about him took me to the website for the Ministry of Veterans and War Victims, which keeps a list of those who died in deportation to concentration camps. According to his entry, René Grenier-Godard died in Germany just shy of his 20th birthday. He didn't live long enough to fight epic battles, but he must have lived the kind of life that made his friends and neighbors want to remember him.

It's difficult to avoid the weight of history in France. The past always seems to juxtapose the present, for example, with my space-age digital kitchen in my ancient apartment building. But back at home in the U.S. it's so easy to have no context for where you live. I do know that playwright Tennessee Williams briefly lived a few houses up from me. And in Forest Park at the end of my street I can still walk through buildings constructed for the 1904 World's Fair.

Wouldn't it be wonderful, though, to have visible signs of the history connected to the street on which you live? Who came before? How many sons and daughters died in defense of us? Who grew up to do important things, even if not a household name? Is there anything significant about the style of the houses worth noting?

I realize in the U.S. it's a little harder to do that since many neighborhoods are less than a decade old. However, we could work a little harder at treasuring our history a little more. In a neighborhood near mine, the streets are marked by brick columns that say "Old Town Clayton." However, you'll not find any of the beautiful clapboard farm houses and Arts and Craft bungalows that told the story of the growth of the area. They've been replaced with condos and 3-car garages instead of wrap-around porches and front lawns. I feel like taking a sledgehammer to those entry columns because the irony is killing me.

However, the idea of dotting the community with a few more plaques might make us pause to think about where we live and not always be in such a hurry to plow it under in chase of the next new thing.

Do you have any particular place in your neighborhood that is plaque-worthy? What stories are worth telling about a neighborhood where you lived? Tell us in the comments box what you think is worth noting. Any famous people that your area can claim? Any events worth mentioning?