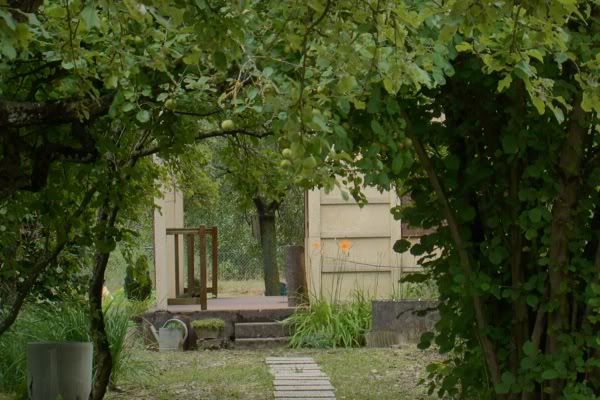 A path welcomes you to the little cabanon in the garden by the lake
"This would never work back home," I said to Brad, waving my arm to indicate the acres and acres of family gardens lining our stroll down bike path at Lac Kir outside Dijon. "At home this would have quickly been co-opted for condo development on the lake." It was a little jewel of a spot I had found last year when in Dijon. I turned my bike off the main path and found this French Eden where generations of families had grown tomatoes and lettuce and small orchards.

On their quarter acres they had built cabanons (small huts) that they had outfitted with wood stoves and hammocks. Children played while grandparents sat at tables under umbrellas talking and drinking their wine. This was the Dijonnais version of a country manor, I guess, and it was only about two miles outside of town. Give me this over a chateau any day.
Hollyhocks line garden fences
"Vacation," in the ultimate sense, means "vacating" your life. I love these long excursions we now can take because so much that seems so essential back home gets packed away in the back of the closet with my suitcase when we're over here. Yes, there's the chance that my kids' reports about everything at the house going great may be slightly exaggerated. There will be piles of mail to sort and dying plants to revive and phone calls to make.

But when I'm away for longer periods there's the chance to imagine (and experience) a different life. Under the pressure of day-to-day busy-ness back home it's so easy to assume that what is now is what will always be. In Dijon, though, we seem to have little problem balancing work with a Sunday walk out to and around the lake. We sit at the table after dinner and talk. We make plans. We literally stop and smell the flowers in the gardens along the path to the lake.
A Dijonnais rides his bike on the bath between petite family orchards
When we return home we'll have family and friends that need us, a house that demands attention, phone calls that add more things to our to-do list. It's always a challenge to maintain a French frame of mind in an American culture. As I've gotten older, I feel it suits me better, though. Multi-tasking holds less and less appeal. However, by the time leaves fall in St. Louis, I feel the influence of France falling away, too.
"You go away for a long time and return a different person – you never come all the way back,"
travel writer Paul Theroux said. Secretly I hope that I'm not coming all the way back. With luck, each time I leave France I will leave a little of myself, like if I forget a pair of shoes, or a book, or a hairdryer. In time, all of what defines me might be sitting, waiting, in a little
cabanon
under an apple tree by the lake. Or maybe I'll figure out how to create my French
jardin
out of my life at home. It would be a development worth more than any luxury lakefront condo.
A swan lazing away an afternoon at Lac Kir, Dijon
What's your favorite place to vacate your life? Take us there in the comment box.