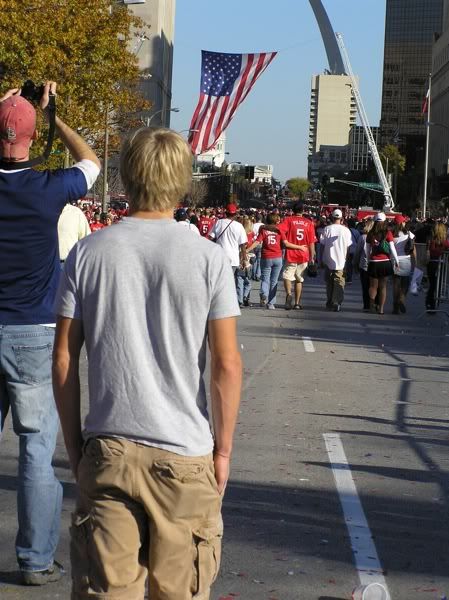 My son at the end of the World Series parade in 2006. I couldn't join the half-million red-bedecked fans
along the parade route this year because of my surgery
Things are good here in Cardinal Nation. My last post was just two days before the surgery on my neck and two days before my beloved St. Louis Cardinals began the improbable ride that was the 2011 World Series Championship. While I wasn't good for much else during these first two weeks of recovery, I could at least revel in all the magic that is baseball.

I know that football is now supposed to be America's most popular sport, with Superbowl Sunday practically a national holiday, but there can never be a football story as great as this World Series run. It's the stuff that makes us all feel like kids again and makes us believe that our dreams can come true.

On Aug. 25, one month before the season ended, my Cards were 10 ½ games out of first place, a statistically almost impossible gap to bridge. One game at a time, though, they kept chipping away until they stood on top of their division. Then in the first round of playoffs so many thought this was the end because the other team had a better record. But one run, one out, one game at a time they proved everyone wrong. The same for the National League Championship round. Nobody believed that they could do it. Nobody, that is, except for the players and all the rabidly devoted fans of Cardinal Nation.

And then they were pitted in the World Series against the Texas Rangers, who were making their second consecutive trip to the Series. They battled like never before. In fact, during game 3 I thought my pain meds were playing tricks on me when I awoke from dozing once, twice, three times to find our favorite slugger, Albert Pujols rounding the bases on home runs in a 16-7 blowout. And then three times in game 6 they were only one strike from going home as forgotten post-season contenders when they rallied to finally win big in the 11th inning and force the final game that clinched their place in baseball history and the hearts of their loyal Redbird fans for their 11th World Series title.
In St. Louis EVERYONE is a Cardinals fan
Not only does baseball give you three strikes and three outs each inning, but because the game plays without a clock, it also gives you unlimited innings to get things right. You might lose in the regulation nine innings, but other days if you keep plugging away, coming back and coming back with hit after hit, you can play on and on until you have your victory. It ain't over 'til it's over. And it's never to late to be a hero. Just ask Lance Berkman, the Cards' rightfielder, a veteran (some might have said "over the hill") player whose career was seen as waning until he joined my team. Even the youngest have something to contribute. Just ask David Freese, who won the Series MVP award although he had played fewer than 200 games in the major leagues while most previous award winners had averaged about 1,200 games.

I love baseball because it reminds us how many different ways there are to win. It can be won by the hitting, the pitching, or by one diving catch in the outfield. It reminds us all that if we work at something consistently and neither sit on our victories nor wallow in our worst defeats then there is always another game or another season for us to make our own luck. There is no clock counting down the minutes to success or failure. Anyone on the field can be the hero of the game on any given day. We just have to be ready when opportunity opens the door. So now that my short period on the disabled list is coming to an end, I'm back at the computer to work at my own chosen sport of writing. Every day I'll hone my fundamentals or perhaps get confident enough to swing for the fences this season. See you at the ballpark, er, online.

I've been off the computer for two weeks so I have a lot of catching up to do with comments that came in on my past posts and reading the wonderful posts written by other bloggers. While I'm busy with my make-up work, please share any of your own "World Series"-sized successes or dreams – or whatever else it is that inspires you to keep going when you're 10 ½ games behind and the season seems over.
Enjoy George Carlin's classic routine about the difference between baseball and football:
"People Will Come" -- Revisit the inspiring speech James Earl Jones delivers in Field of Dreams, reminding us of the eternal nature of baseball.