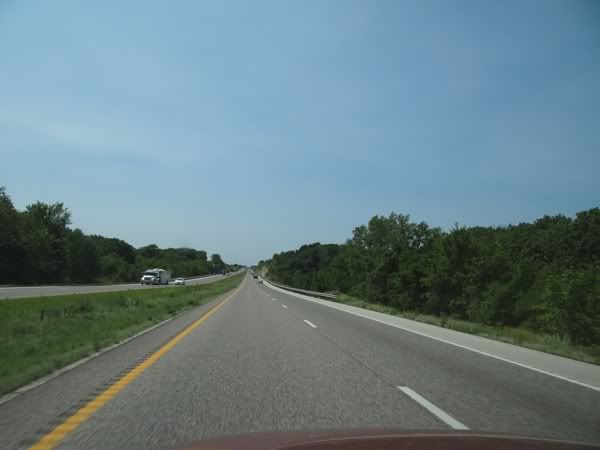 America along highway 70, between St. Louis and Kansas City
Earlier this year when I was planning to drive from St. Louis to Michigan to see my daughter at college, my French friend Martine asked me about the drive. What kind of towns would I go through? What does the scenery look like? How long would it take? She tried hard to imagine my description, but she had some difficulty conjuring up the vast expanses of emptiness in a country of over 300,000,000 people. How could I drive for 50 miles or more without ever encountering a town? In France you can frequently see the next village before you've even left your current one.
Perhaps the size of this country accounts for the fact that only about 20% of its citizens have a passport (
OTTI
). Without leaving its borders, I could explore the mountains of the Olympic Penisula, spend a summer on the Appalachian trail, hit the beach along both the Atlantic and Pacific coasts, warily commune with alligators in steamy Florida swamps, see some of the world's greatest art in New York City, or eat at
Lambert's Café
("The Only Home of Throwed Rolls"), in Sikeston, Missouri. Why would I ever need to leave?
Americans are travelers. They are Jack Kerouac On-the-Road roamers, they are Lewis and Clark explorers, they are move-West-young-man people. When I'm traveling south, however, and hit the foothills of the Blue Ridge Mountains north of Atlanta I look at the deep, black forests around me choked with pine trees and tangled mountain laurel and wonder what motivated anyone to climb another ridge and move forward, or settle in this or that valley with seemingly no way out. On the other hand, when I'm on the long highways of the American West I try to see with old eyes and understand what could have possibly made anyone choose to settle anywhere in these inhospitable regions. Was it just pure exhaustion from constantly moving forward?
Same highway, 30 miles down the road
My favorite American traveler, William Least Heat-Moon, questioned why we travel in a Wall Street Journal
article
. I think he might be a bit generous as to why many travel today ("we all set out motivated by curiosity of one degree or another"), when so many hit the all-inclusive resort and never leave the tiki bar or the casino, or their curiosity extends only to whether this outlet mall is different from one back home or if this chain restaurant might offer any regional "specialties."
The therapy of the open road, he reminds us, is always possible:
On a stretch of open road, a driver can roll along with his window reflection laid over the landscape ahead so that he must see through himself to see the territory …. For drivers who never see past their own reflection and on into the landscape beyond, any road and any place is as good as any other. If travel is not about connection, then it is not worth the carbon expended to arrive….
I'm grateful that there are travelers like Heat-Moon who go farther for longer than I can. Two of my favorite words are "road trip." However, I know that even after a month and a half in France I start dreaming of my own pillow and the familiarity of my kitchen layout. I want to return to my neighborhood Mexican restaurant even as I linger over the pure chocolate perfection of the mousse at the café down the street in Dijon. I want to see the trees lining my own street instead of another tree whose name is unfamiliar.
The problem with longing for home is that I get there and grow more complaisant, less curious. The winds of the moment shape my day rather than a desire to connect with something new. I'm distracted by who's up/who's down in presidential polls. I find it imperative that I shampoo the carpet or wash the dog. What I'll cook for dinner actually becomes an issue in my day.
But then I remember I'm one of those lucky few who has both a passport and a real, non-digital, road atlas of America. I start imagining where I can roll again. Sometimes my favorite part of the trip is those 50 miles with nothing but my own reflection in the windshield. But connecting with the places and people at the end of the road are what give me something to write home about.
The moonscape on a road between the Grand Canyon and Sedona, AZ
Do you have your passport yet? Where would you go first when you get it? What's your favorite road trip in America? Reflect on road tripping in the comments section and give us a reason to jump in the car.