My 52nd birthday is today. The first part I wrote a bit ago, while the second part is very much in the here and now.
-----
Dateline: Dijon 2007
Today I turn 50 years old. I'm working at my computer in the silent attic bedroom of the apartment at 30 rue Verrerie, in Dijon, FR. I'm alone because Brad is in Tunisia for the week doing research with other mathematicians. I'm trying to figure out what 50 is supposed to feel like. I'm only a few years away from my mother's age when she died. What did she feel like at fifty? I know what she seemed like to me. She still laughed easily because her illness had not yet consumed her spirit or her energy. But at 50 she was already old on most days. She looked tired, and probably was. She came from a generation that let its hair go gray and wore sensible shoes by 40. They were wives and mothers. They didn't exercise, ride bikes, take trips with "the girls," or define themselves beyond what they gave to everyone else. If they had hopes and dreams and urges to bust out of routine, for the most part they kept it to themselves.
My Grandma (Dad's mother) was even older at a younger age. In photographs of her with my father as a child, she looked 50 by the time she was 30. Her shoes were orthopedic, and her hair was in a perpetual bun until her 80's. A product of a hard country life and the Depression, life was about one's work ethic more than leisure or pleasure. I'm fairly certain she had moments of joy and contentment, but mostly I remember she was always busy at something – sewing, cooking, mending, cleaning, gardening . . . you know –
doing
. Did 50 feel any different for her than 40 or 70? I know visits from her great-grandchildren brought a smile to her face, but did she pass on at 94 with unrealized dreams? Did she feel the desire at 50 or thereafter to proclaim that it was finally "me time"?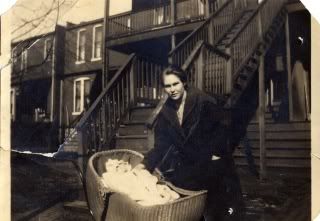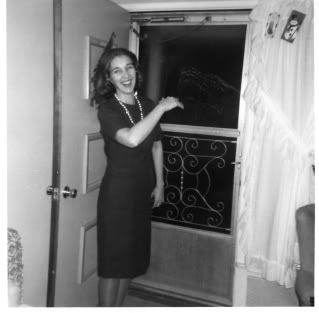 Bertha Myrtle Farrar
Ellen Francis Farrar
I don't mind being alone on my birthday because the best present of all is to not have to respond to the needs of anyone or anything for 24 hours. My day's plans extend no further than anticipating the
dame blanche
at my favorite brasserie with which I will reward myself for achieving this milestone. The ice cream will be tongue-numbing cold and the fresh
chantilly
(whipped cream) will snake around until its mountainous shape hides all the sweet scoops and chocolate sauce beneath it. I luxuriate in the wonderful freedom of not having to negotiate any emotional boundaries with those I love with all my heart. Life's net of negotiation and compromise can tangle us and pull us down. However, when done as part of the life dance for our roles as wife/mother/friend we can reap rewards that lift us up. Occasionally, though, we want simply to twirl alone, spinning faster this way and changing course and speed to twirl slower that way, to stumble across the floor while temporarily losing our "spotting" mark until regaining balance and eventually finding ourselves centered and still, ready to begin another
pas de deux
with those who fill the stage of our lives.
-----
Dateline: St. Louis 2009
Does each generation grow bolder? I've gone farther than my Mom probably would ever have dreamed of for herself – or even for me, her youngest daughter. But my own daughter, thirty years younger than I am, already is preparing to go farther than I would have dared at her age. Not even finished with college yet she readies herself for a journey to Russia
alone
in January for a semester of school, with challenges beyond the cold and language that we can't even envision. We share the same birthday, three decades apart. I wonder in what distant place she'll find herself at 50 since she seems permanently shod in a pair of travelin' shoes. I watch in amazement as she audaciously charges through the world in a way that I still can't, just assuming that she belongs in the middle of it all.
In recognition of our shared celebration, I wish her
un 22nd anniversaire très joyeux et bon journée
.