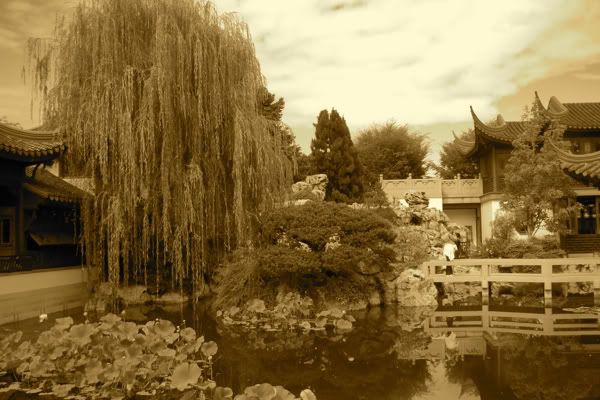 Chinese Garden, Portland OR -- here was a happy day with my friend, John. We talked art and writing and ate a lot of great food
March – Thin Mint Girl Scout cookies

French café, summer, tea and chocolate

My children, watching them become themselves

Family dinner with Mom's chicken casserole

A dog by my side, sitting

Tulips in bloom; spring has come

Fried chicken, mashed potatoes, and gravy

Feeling strong after a gym workout

Making a French sentence, present tense

Brad, me, plane tickets to anywhere
I know that I'm often guilty of making life more complicated than it needs to be. In French class the other night I pressed the teacher for a logical reason why this sentence said "Tu es" and that sentence said "Es-tu." By then the whole class knew my MO and in a chorus declared that once again I was over-thinking – "It's just a French thing." In other words, let's just move on. We have bigger conjugations to fry.
So lately I've found myself clicking over to the website that challenges us all to distill our life stories into
six well-chosen words
. One of my favorite bloggers,
Gretchen Rubin
, encouraged her readers to find their own six words on happiness. How easy to allow little aggravations and big headaches to squeeze out the memories of contentment or joy in a day (have you seen what squirrels did to my attic this winter -- yikes). They come dressed in neon lights waving "Look At Me!" banners while the quieter comforts of life sit in a corner whispering "I'm here if you need me. Just call."
Maybe one of my belated New Year's resolutions should be once a week to write ten new Happiness Memoirs. What's that Voltaire said? "Don't let perfect be the enemy of the good." Many creative projects and life goals gather dust right now because I'm too busy fretting over "Tu es" and "Es-tu" or how the squirrels have deconstructed my house. I can't submit writing because maybe I just haven't found every possible weakness on the page. My home renovations haven't started because next week I might find a better design for a kitchen cabinet or because it really is just too much work to choose "the best" architect for the job. I can't appreciate the five-minute conversation with a loved one because my mind is mentally checking my day's to-do list.
Yes, it's definitely time to start on the next list of ten 6-word Happiness Memoirs. Probably the first should be
Project started, project advancing, project completed
.
What are your six words for happiness? Want to share them here?
Signs of spring amid late snow -- something to be happy about