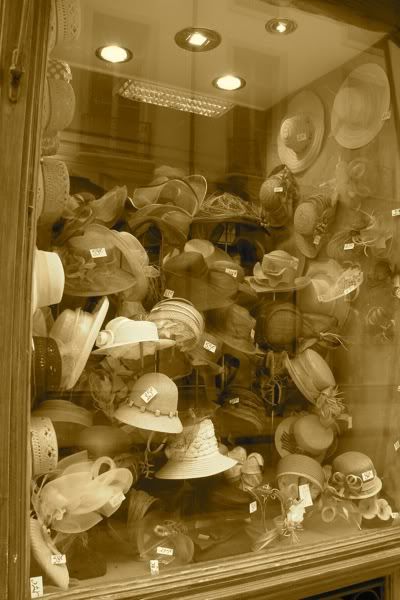 Hat stores abound in Dijon, France
Today you are being sent to read something better than I could have written, even though it says exactly what I would want to say.

This week has been a difficult one at the computer. I've had problems with my arm, shoulder, and neck for a long time and next week I go under the knife to see if they can be improved. This has been a week of spasming, tingling, and other ailments that made it difficult to type for long or work a mouse. As I was wondering how I was going to get through a blog entry, I clicked on a new piece posted by Nadine Feldman on her site, A Woman's Nest.

She writes about transformation, travel, creativity and all kinds of things good for the soul. This week she talked about a hat, a hat and how what the world sees changes how we see ourselves. With wonderfully poetic language she wrote about how we so easily let others limit us.
Wouldn't it be wonderful to be so unencumbered by others' images of us?
If I were to choose one thing that fences me in, that puts me in a box, it it's probably my genes. I think I'm genetically predisposed to put everyone and everything else first. It seems to be a trait handed down in the DNA of the women in my family. I wake up almost every day and say, "What needs to be done? Who needs what?" It's hard to imagine a different sense of self like Nadine describes if I don't take time to ask what I want and how I'll get there. I can't reinvent myself if I give all my time to making sure someone else achieves what he or she wants. I'm trying to work on it, to find a balance between me and "them."

So today I'm sending you over to read Nadine's post because she wrote exactly what I'd like to say if I had as much insight and mastery of the language as she does. Enjoy.

You can find it here: Sometimes It's More Than a Hat

Be sure to leave a comment on her page to let her know you stopped by. Then come back here and let us know what you feel limits you from the outside.