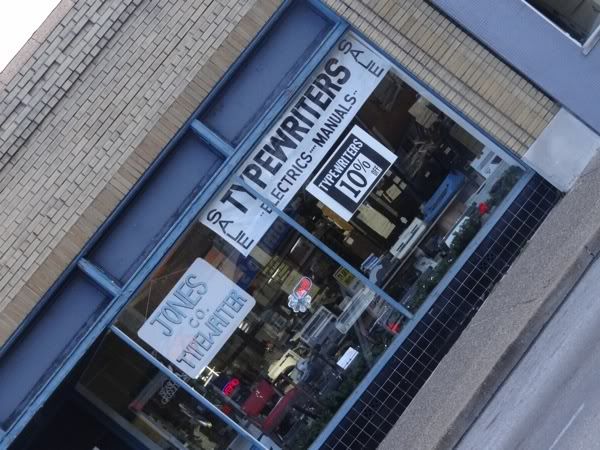 In my neighborhood there are still places that remember a less complicated technology
I miss her. We were friends for so many years. We sat up all night in college, pushing hard to be brilliant – or at least adequate. I vowed to be there for her 100% and never fail her in her time of need. For so long she remained faithful to me, too, even though her friends said it was time to look for something fresh.

I never asked for much. Just a new ribbon once or twice a year. A little correction tape. The distinct and smooth tap-tap her fingers produced signaled all was well. I never got sick on her, never caught a virus that would ruin her plans, and did my best to be a low-maintenance friend.

Together we made poetry. And we made parodies of Manichean cults in iambic pentameter. We explored the history of Irish mythic heroes and produced outlines of all the books of the New Testament. We expounded on Aristotle and Martin Luther and Hemingway. We wrote letters and exegeses. I knew her touch and I knew the pauses when she was thinking.

Forgotten but not gone
When her mom and dad brought us together I had never seen anyone so happy. "Just what I've always wanted!" she exclaimed. I thought we would be together forever. But one day a plastic box appeared on the desk next to me. White instead of my sleek, black keys, it seemed rather nondescript except for the small rainbow-colored apple in the lower left corner.

While my three-pronged cord and a single on/off switch made me a breeze to handle, this new machine seemed overly complicated. Wires out the back. Wires to keyboards. Wires to a device on the side she constantly slid across an 8x8 pad. She always was sticking something in the front slot like bread in a toaster.

Oh, I stayed faithful, sitting on that desk waiting for some attention, eager to create beautiful thoughts together. Occasionally I addressed an envelope for her. But I felt her touch less and less.

One day she unplugged me and placed me back in my molded plastic home. She closed it with a determined "click." I haven't seen daylight since. But I have hope. She has carried me from apartment to apartment. From house to house. Now I wait, seemingly forgotten in a dusty basement. I must still mean something to her, though, because I'm still here. Waiting.
If you had one object that could tell a story what would it be and what would the story be about? Tell its story in the comments box.
Authors Note: This was written in response to the Write On Edge Remembe
RED
prompt:
Do objects have a memory? Does a rocking chair hold the essence of the snuggles it has witnessed? Does a pottery mug remember the comforting warmth it offered a struggling soul?
The dictionary defines personification as "the attribution of a personal nature or human characteristics to something nonhuman, or the representation of an abstract quality in human form."
Now it's your turn to tell a piece of your story from the point of view of an object who bore witness in 400 words or less.