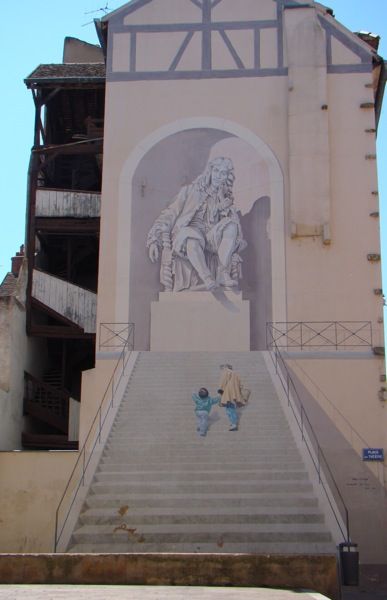 Molière at Place du Theatre in Chalon-sur-Saone
23 April is a symbolic date for world literature for on this date in 1616, Cervantes, Shakespeare and Inca Garcilaso de la Vega all died. It is also the date of birth or death of other prominent authors such as Maurice Druon, Haldor K.Laxness, Vladimir Nabokov, Josep Pla and Manuel Mejía Vallejo.
Today is International World Book and Copyright Day. I'll celebrate by going to my local independent bookstore to pick up the memoir Let's Pretend This Never Happened by Jenny Lawson, aka The Bloggess, and catch up on my reading today.

Some cities may also be celebrating this special day with a World Book Night. For this, bookstores, libraries, restaurants, and other groups are giving away books from a list of thirty titles. You can go here to see what books are receiving that honor this year. Google "world book night" and your city to see how it might be celebrating. Independent bookstores in my town have put out a call for a "read mob" (like a flash mob, but with less dancing and more standing there and reading in a large mass). Alas, I can't make it because of more physical therapy for my back and shoulder.

So pick up a book and read today. Then come back tomorrow and I'll tell you about my weekend spent surrounded by book people at the annual Missouri Writers Guild Conference. It was filled with the words of inspiring writers like Claire Cook (author of Must Love Dogs) and Christina Katz (The Writer Mama).

Now go read!
Wouldn't it be great if every town in America had an Edith Wharton Ave. or Mark Twain Blvd.?