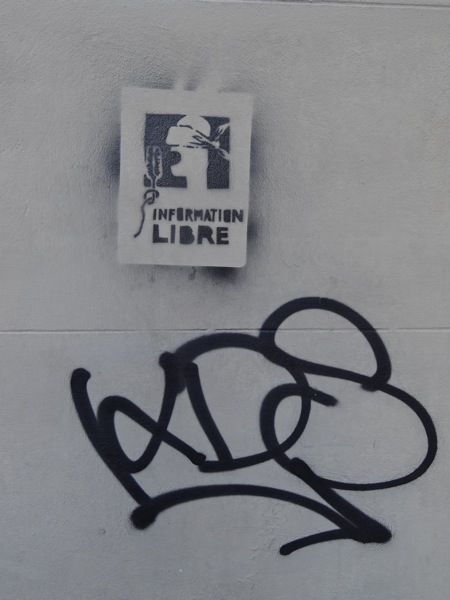 Free speech is found on many walls in France
Apparently, bloggers are not allowed to give free advice without a license. At least not in North Carolina. If I dare tell you what exercise has cured my lower back pain, or which juicing recipe gives me the most energy, or – I guess – what a parent should do about a mouthy teenager in the house, then I just might receive a "cease and desist" warning from some bureacrat in that state. (So quick – if you're a reader in N.C., dim your screen in case Big Brother is reading over your shoulder.)

Blogger Steve Cooksey has been writing about the wonders of the Paleo diet ever since he began following it to lose weight and reduce his diabetes risk. In other words, he tried to eat like a caveman with a clean diet of mean and leafy green vegetables, i.e., a fairly gluten-free diet. However, the North Carolina Board of Dietetics/Nutrition, alerted by someone about this lone voice crying in the wilderness (uhm, Cooksey and about a million other blogs, newsletters, magazines, and books on the subject), concluded he was counseling without a license. You can read columnist George Will's detailed explanation of the issue here.

While they expect him to have a Ph.D or other certification in order to continue his blog, Cooksey has sued on behalf of his free speech rights.

In light of this frightening Internet development, I've had to think long and hard about what topics I should avoid so that I don't come under attack by any government board in my own home state.
Advice about growing older
I've enjoyed talking about what I've learned as I travel through my midlife. However, since I'm not a licensed gerontologist I'll refrain from telling you how to improve your memory, exercise your body, or anything that might make you live longer or feel better. Anything I've learned from all the midlife blogs or health reports I read while searching for that magic pill to combat old age I'll keep to myself. I'll let them be the ones to pay the lawyer fees when someone comes to shut them down for counseling without proper credentials.
Gardening
I was about to write a post about fall gardening. Whew, glad I saw the consequences of suggesting fall plants like the white anemone "Windflower" if you want something to fill a large space where nothing else will continue blooming until frost. Because I don't have a "Master Gardener" certificate or a degree in horticulture you might have filled your garden with plants just on my say-so and then, if I didn't say "water regularly" in my post, suffered a tremendous loss – perhaps even been traumatized – when nothing popped out of the ground in the spring.
Parenting
DISCLAIMER: I am not now nor ever have been a licensed family counselor or psychologist. Therefore, if I say a single word about how I survived any parenting crisis, DO NOT take it as any suggestion that you should follow suit. After all, every child is different so there is NEVER EVER any resemblance between what I experience as a parent and what you might experience so DO NOT LISTEN TO ME. In fact, if you see that I'm writing about being a parent, shut down the internet immediately unless you are impelled to set rules for your own children that were influence by anything I might have said and then when your kid winds up living in your basement until he's 33 playing retro-style PlayStation games all night long you try to sue me for giving faulty parenting advice – don't say I didn't warn you that I'm not a licensed child psychologist.
Book Reviews
Oh, wait. This is something I could probably talk about because I spent many years as an undergraduate and graduate student in English departments writing about literature until I perfected the grand art of givingtheteacherwhatshewanted. Even though I might eat raw squid before reading a book by F. Scott Fitzgerald, I can talk ad nauseum (because that's what he does to me) about why he's a great American author and why everybody else should read him. I even have a few degrees thrown on a bookshelf somewhere to prove how many hours of my life had been devoted to learning this skill.

Just because you read tons and tons of books in your life doesn't mean that you are in any way qualified to report on them. I suspect next North Carolina will be going after Goodreads, demanding its member list to check for those reviewing without the requisite university training that I have. So I guess it's decided – this blog will change immediately to one strictly devoted to book reviews and pictures of France. I think I'm safe with that.
I could try to create some blog posts about the constitutional right to free speech – especially about sharing recipes online (it's not like he's writing about how to cook meth, which I'm sure the Nutrition board could find somewhere online if it tried). However, I might be required to prove I have a J.D. degree in constitutional law, so I'll just shut up and leave it up to you. Do you think this is really a matter of safety that bloggers show proof of expertise. Or, do you think the Dietetics/Nutrition Board is trying to protect its turf? What kind of restrictions (if any) should bloggers have? Share your thoughts in the comments box.
I confine myself to myself
The cause is hidden
This summer I visited a chateau that's the embodiment of the idea of free speech. When Comte De Bussy-Rabutin displeased King Louis XIV for writing about many of the nefarious doings happening at court he was banished to his family property in the Burgundy region. He was forbidden to publish any more books, so his home became his story. He filled the wall with murals and sayings expounding on his life philosophies. He also amassed a portrait collection of his many mistresses and other celebrities of his day. On the frames he painted extensive editorial comments, none too complimentary, about them. The king could not silence him as long as he lived.