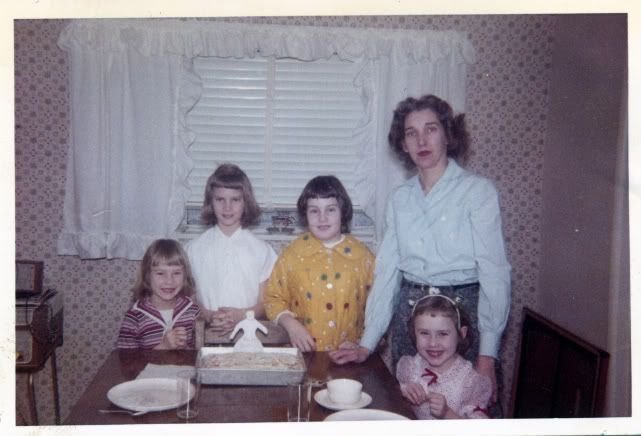 Mom with my sisters - Melinda, Nanci, Jane, and me. It must have been my birthday since I'm the one dressed like a princess still
It's Mother's Day – the most popular day of the year to eat out and the busiest day of the year for phone companies. Always short of money and ideas, I'd celebrate my mom with bouquets of bridal wreath spirea, lilacs, irises, or whatever was blooming in the yard. Or I'd promise to mow the lawn or vacuum the house without asking for anything in return. When older, I could cook her a dinner. Whatever I did, though, in her entire life it never adequately recognized all Ellen Francis Farrar was to us.

Short of winning the lottery and giving it all to her, I'm not sure what I ever could have done to have honored her properly. Diamonds? Brunch at the Ritz-Carlton? A Wii Fit? Now that I've been a mother for fifteen years, however, I think that maybe the greatest gift I could have given her was my undivided attention as she told me her story. She deserved to be more of the foreground rather than the background of my life. If Mom returned here for just one day so that I could get it right, I would make sure I asked her these five questions (in no particular order).

1) Where would you like travel? To where do your dreams fly you?
Most of our vacations were at the Lake of the Ozarks. A few times we escaped the gravitational pull of the Midwest and drove to Holland, Michigan, and The Badlands/Mt. Rushmore, and the Smokey Mountains. One year when I was in high school I remember her trying to casually and indirectly encourage Dad to agree to a Florida vacation. That idea died quietly. Her mind was always open to so much in the world, a quality I think I inherited. I can't help but imagine she had wanted to see more of it just as I do. Where would she have wanted to start?

2) What about me has made you most proud?
I know I don't have her quick laugh, her parental patience, or her selflessness. I would love to know what she thinks I'm doing right.

3) What did your mother teach you that you never forgot?
I regret that I never learned more completely how Mom prepared her fried chicken and gravy. I know that she told me in many ways that people were more important than books. What part of her own mother did she carry around inside her long past the age of adulthood? What words or lesson guided her when she felt she had lost her way or kept her continually on the right path? What words helped her be who she became?

4) What advice would you have given me when I became a mother?
A day doesn't go by that I don't want her here to tell me how to master this mothering thing. Her absence never felt greater than on the day I brought my children home from Russia. "Now what, Mom?" I desperately wanted to ask. Frequently, I dig down deep into my memory to remember if we ever gave her the particular worries that my two kids give me and try to recollect how she handled them. How did she encourage; how did she comfort? I suspect she whipped out her sense of humor as her main tool of motherhood maintenance. Unfortunately, I often remember that too late.

5) What was your passion?
I simply don't know – and for that I'm truly sorry. I know what she did. She swam, she gardened, she sewed, she devoted time to her church, she raised four girls and took care of everyone but herself. But I don't know what fed her spirit the most. I should have asked her.

So Happy Mother's Day to all the mother's out there. And tell me in the comment box, below, what question(s) you would ask your own mother if given the chance. Then pick up the phone and ask her if you're lucky enough still to have that opportunity.
(You can read about Mom in this post, also)