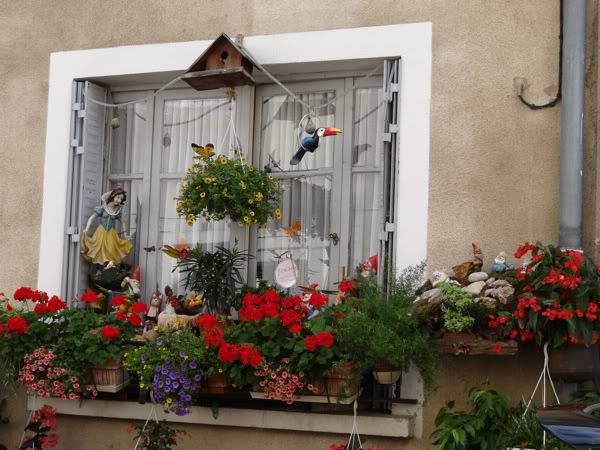 A whimsical window in an average village on a back road of France
It's rained almost every day except two or three since I've been here. I've had my wallet stolen in Paris. It's October weather in July. We have unbearably boisterous Italian neighbors upstairs (how many live in that apartment?). Brad's laptop died on the first day. My lost license means I'm not driving to the music festival I had been planning for since last summer. The dollar-to-euro exchange is extremely painful.

When the time comes to leave, though, I'll wish I could stay for one more day.

The rhythm of France, especially Dijon, has begun to feel as familiar as home. It's not the only place that calls to me. Italy is still in my sights. I haven't seen the redwoods in California yet. I could visit Nashville once a month for the rest of my life. Yet I've come to love France, warts and all.

Last night we had our friends, Didier and Françoise, for dinner. The conversation turned to the disappearance of local farmers who had filled the stalls at the market. There is more suburban flight to where housing is cheaper and property larger. Commercial centers (malls) create water run-off because the concrete prevents rain from sinking into the ground, just like in America. Restaurants in town are catering more to the tastes of tourists. "Progress" is changing the country.

Yet I bought all the organic produce that went into dinner's vegetable mélange for about $1.50. The bread we ate had been made while we slept the night before. The chocolaty dessert we ate was perfection, not the over-sugared concoctions that pass for chocolate in America. And we had all night to sit at the table and chat, even if tomorrow was a workday. France's appeal for me lies not in the overwhelming offerings of Paris, of the picture perfect chateaux, or the richness of the next boeuf Bourgogne. I find my pleasure in the quotidian.

So for those who want to know what I see in this country, here are five random reasons I keep coming back:

1) All day, every day, people walk down the street with a bouquet of flowers cradled in one arm and a loaf of fresh bread in the other. What else is there to say?

2) Shopping for food (which I usually hate) is a community affair. Much of the town comes out for market day, trailing their shopping carts behind. They shop. They talk produce. The butcher knows them. A vendor cuts an apricot in half and give it to me for free just to prove his fruits are the best. People stop to chat with friends and neighbors. Their dogs are enjoying the day out, too. Then before they head home (with leeks and roses peeking out of the top of their carts), they stop at the café or brasserie or salon de thé for a taste of something and conversation.
Taking a break in Pl. François Rude, Dijon on a busy market morning
3) At the grocery store, where I stopped for some organic apricot nectar (something I'll long for the rest of the year), I was behind a scraggly bleach blonde who looked like she hadn't been to bed in three days and who was constantly tapping her foot, checking her phone, and muttering to herself as if whatever she had taken that morning hadn't worn off yet. However, she did not fail to greet the cashier with the typically enthusiastic bonjour of this country, and when she opened her backpack to pull out her wallet she also pulled out a copy of Aristotle's

Ethics

. This is a country that seems to still read. Books. In non-digital format. People of all ages. In the center city of Dijon I can pass at least four bookstores on an average day.





4) Life continues in small towns and villages. Take a day to travel the back roads instead of the autoroute and you'll see villages strung out along an extensive bike path, people stopped for refreshment at a tiny café. No matter the size of the town, there are still planters filled with red geraniums on any bridge that crosses a river, canal, or stream. There are no abandoned cars and rusting trailers along the routes. You'll see posters for upcoming

spectacs

(entertainments of a wide variety) happening somewhere in the area. I know they have their problems, but they still keep going.





5) When here I can settle into a pace that says there is time to get everything done. I know part of the reason is because, to a large extent, I've left my life in St. Louis behind. But France – with its cafés and flowers and back roads and walking everywhere and small apartments – slows time to a level of human comprehension. Every year I vow to maintain the rhythm of this life when I return home. Each year I let it get eaten away by to-do lists, ringing phones, racing to the supermarket before dinner. I get little writing done, fail to complete long-term projects, don't take care of myself. I forget to sit down for a tea break. Then I come to France and decompress within hours. And vow to not lose this capacity to just chill when I return home. Let's see if I can keep that vow this time.





What is one of your favorite places to change perspectives on your life? Give us a clue to what we're missing in the

comment box.
Even the dogs enjoy an afternoon of shopping in France