A small taste of Burgundy. Sip it slowly and enjoy all the flavors it gives off.
Here's Brad, contemplating math or a wine lover's paradise, along the wine road of Vosne Romanée.
You met this young fellow, the watchdog of Concouer-et-Corboin,
here
. It's possible to spend all day in France taking photos of dogs and nothing else.
I haven't quite figured out who this fellow is. Doesn't exactly look like Sarkozy, but his likeness is stenciled all over Dijon. Clearly someone is trying to say something.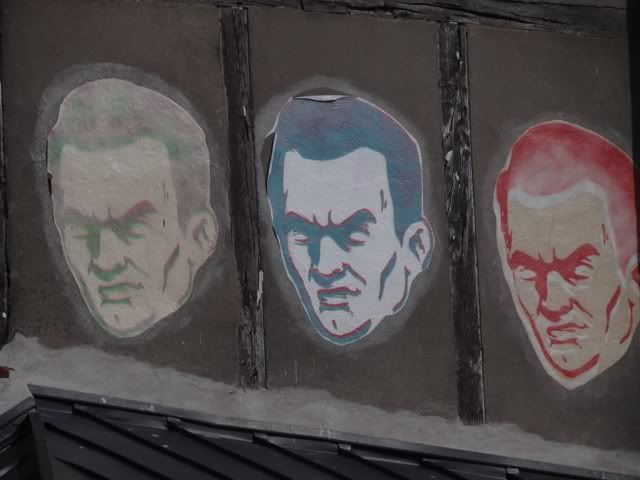 My wish before my stay is over is to get a decent picture of this fellow. He usually appears around early dinnertime. We had just tucked into our first course at a restaurant on rue Berbisey when he came along. I had put my camera away just moments before, so it was a real scramble even to catch this shot.

We had just minutes before arrived in the city of Auxerre and were taking photos of the boats lining the riverbank when I spied this monk out for a morning stroll. France is always a juxtaposition of the old and the new.
In Auxerre we heard music coming from Cathedral Saint-Etienne so I led the charge to participate in the Sunday service. We happened to arrive just as an adult baptism began. The congregation's musical chants, however, were to the enthusiastic beat of sub-Saharan African drums. At the offertory, the young woman recently baptized (in white, on right) carried the host, led by other young people dancing down the aisle to a drum chorus, baskets of fruit offerings on their heads and white handkerchiefs waving in one hand.

While I was snapping photos quietly from my place in the back, an old French woman sidled up to me and said something quickly but firmly in French. I couldn't interpret it easily, what with the drums going and the random AMENS being shouted, but I'm sure she was telling me not to take pictures in church. After she left I went back to shooting. In my church at home people are always pulling out cameras – for the church website, because a child is acolyting for the first time, because because just because. They never interrupt the service. Our Lady's Guild members have practically a full time job archiving the photos from the life of our church.

So before slipping out during the last part of the service I found the donation box every church in Europe has, large and small, and dropped in 2€ as a penance, grabbed one of their brochures on the history of the church, and slipped out. So here is the "offending" shot of a 4th century European church celebrating the global communion of our 21st century.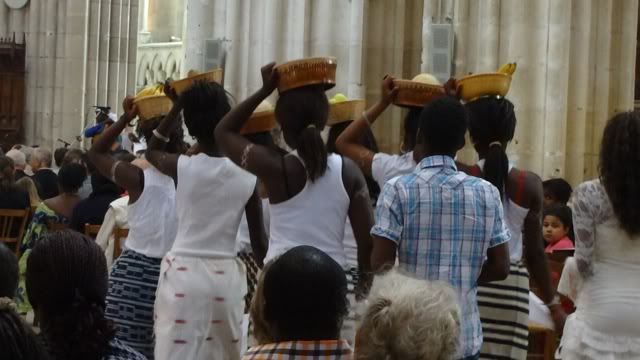 What other scenes of France would you like to see? What would you like to know about France from my American perspective? I'll take any and all requests here although I can't promise I'll be able to fulfill them. What would you like to read about while I'm here?