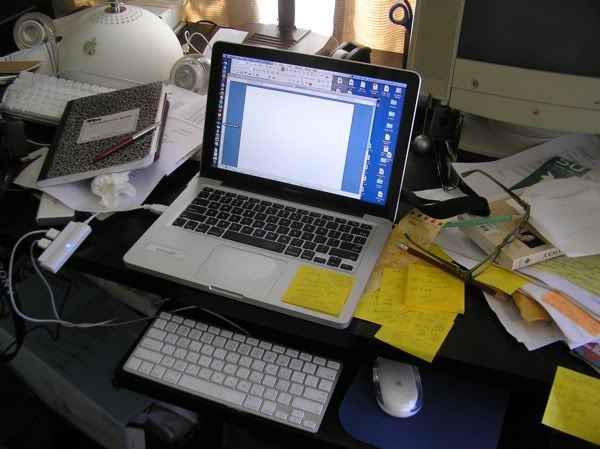 You can see by the number of Post-It notes, I'm not fully embracing modern media
Whatever you do, do NOT follow me on Twitter, no matter how much I beg. Somewhere on this blog page you will find a link to follow me on that little blue bird of app happiness. I don't know what I was thinking. Probably I didn't think much about it because it took all of my brain power for half a day just to install the widget on my webpage (and you already know I suffer from decision fatigue).

This old dog decided that she would not let new technology tricks beat her. So she started a blog. But she didn't realize that it required as much care as rare orchids. "How hard can it be?" I thought. I have a million opinions and a million pictures. I'll use one of those fast-food templates that a brainless jellyfish could master. But once I started it, blog-building created a lot of blog-envy.

You know how that is, whether you play seriously with photography or gardening or rebuilding motors. Soon you start to look around and notice that your friend has a better camera flash, or you read an article in a magazine that says everyone who quilts needs this new gadget that designs, cuts, sews and appliqués without any human intervention except pressing "on." And so as I wrote my blog I began to read more blogs.

Oooo, look at that cool badge saying they're a member of such-and-such. Twitter icons, Facebook icons. Quick, I have to learn what an RSS feed is. What a pathetically short blog roll I have. I must network my blog. Give me, give me, give me. And so it began. And now I'm in danger of massive widget failure.

And Twitter is to blame.
"How hard can it be?" I said again. My nephew, Andy Wissman ("skateboarder, photographer, filmmaker, artist, beard"), is droll beyond measure, plus he always has links to his fantastic photos on his e-zine. Besides, he's young, unmarried, and works at City Museum in St. Louis. Of course, he has time to tweet up a storm. But how do bloggers like Annette Gendler and Monica Medina find so many links to offer up? How do they meet their daily, weekly, and monthly writing tasks (yay, Monica for her new HuffPo gig!) while still tweeting all those fabulous links to make me a better writer?
Tweet tweet tweet all day. Constant mentions, retweets, replies, @ high fives. All day long they roll through my TweetDeck.
How will I ever feed the Twitter Beast? Hashtags (#), @ signs, retweets, replies, tinyurls. I used to think I was witty and had something to say about everything. But I stare at my TweetDeck and . . . nothing. What could I possibly say in under 140 characters that anyone would want to retweet? Oh no, my head's about to explode from the pressure.
At night as I lie in bed the horror of complete Twitter failure overtakes me. I think, "Crapola, I should have tweeted that article in the New York Times. Or I should have tweeted something I overheard in the supermarket line." Or "Dang, nothing worth tweeting ever happens to me." I can go through an entire day without remembering to tweet once. And then I panic more because I never read all the tweets from yesterday or followed all the valuable links of the 26 Twitter fiends I'm currently following and there will be more tomorrow. I'd have more than a pittance of my own followers, but I thought it prudent (in case I want to run for office or become a famous writer) to block a few who said they wanted to be my friend. Somehow I didn't think they'd say anything I could RT in public. And if I follow Justin Bieber will he follow me back?
I'm still a Post-It notes kinda gal. I don't even sync my smartphone to anything. So whatever you do, don't click that little blue bird and start following me around all day. Don't send me wonderfully witty or profound messages that I can RT to make myself appear more wonderfully witty and profound. Don't share my links with friends who might expect all of my messages to be just as interesting.
Now please excuse me. I have to go to the gym to do lat pulldowns so I can carry the weight of my new Twitter responsibility on my narrow shoulders.
Pen and paper -- still my favorite message transmission media
If you've mastered the Twitter Beast, tell me so I can learn more by following you. If you think it's the time suck of the century, please share.
As the summer
comes to an end, revisit a lazy Sunday along the
Burgundy Canal