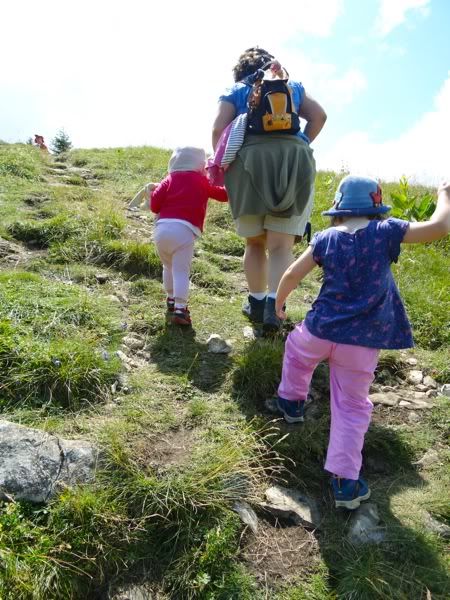 Two very determined hikers on the trail up Montrond
The pink pants and tiny blue hiking boots above me on the trail stepped with a sure foot over one rock after another. "Oh the shame," I thought, "if this 2-year old makes it up the mountain and I don't."

The French are walkers and hikers. France contains over 30,000 miles of the Grande Randonnée (GR), a series of trails throughout Europe. Our little strip of the trail that day traversed the ridges of a mountain range that started in France, and if we walked until dark, would find us in Geneva Switzerland. The goal of our friends and their children and grandchildren that afternoon was the top of Montrond, a 5300 ft. peak in the Jura Mts. of Burgundy. From our vantage point we could see Mont Blanc on the border between France and Italy, a "real" mountain that rose above the clouds.
I had thought the plan was to take the ski lift up to the top of the slope by the lodge and then hike down. After all, our group included a toddler and a 4-year old. Right? But that was only where the hike began. The next time I assumed we had certainly made it to our destination we had only reached the top of
Petit
Montrond, so I trudged on, following the little pink behind padded with the French equivalent of Huggies Training Pants. I stumbled over rocks every fifth step as we followed the trail around to the back of this peak so we could go
down
again and then start another ascent – one peak closer to our goal.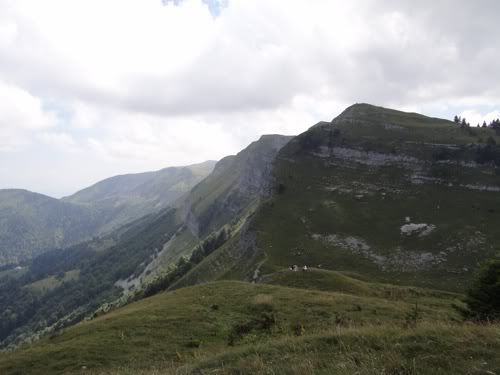 When I pick a place to travel, frequently my first question is not "What is there to see or do?" but "Where is there to walk?" I want to know a place one step at a time. In French, a walker might be a flaneur, someone who strolls the sidewalk looking in shop windows, stopping at the café to chat, exploring a neighborhood at a leisurely pace à pied (on foot). Dijon is all about strolling. It has made little effort to accommodate cars in the historic parts of town so we walk to dinner, we walk to the market, we walk to the parks and the lake, we walk in the evening after dinner to see who else is out walking.

When Brad and I bought our houses, one of the primary questions was "Where can we walk with the dogs?" I didn't just want a neighborhood with sidewalks; I wanted sidewalks that went someplace. To the park. To the store. To the coffeehouse. To the dentist. We are flaneurs at heart. And we raised two kids who know how to walk. They're comfortable living life à pied as well. I watch the seasons pass at snail's pace in the gardens of my neighbors and the trees in the park while the bicyclists and joggers whip by me.

A walker can also be a promeneur, marking the miles by a day or a week. It's about distance and destination. But it's not about competition race-walking or counting off steps to lose weight. I'm not an extreme walker. You won't see my name on the log of people who've traversed the entire Appalachian Trail. I can't see myself making a pilgrimage along the Camino de Santiago in Spain. Backcountry backpacking has never been a dream of mine (ever since digging latrines in Girl Scouts I decided I like toilets). But I like to find a trail and spend a day where my mind focuses on nothing more than finding the best footing. It's a kind of colonic for the brain.
We made it, although I might disagree with some of the times posted on the signs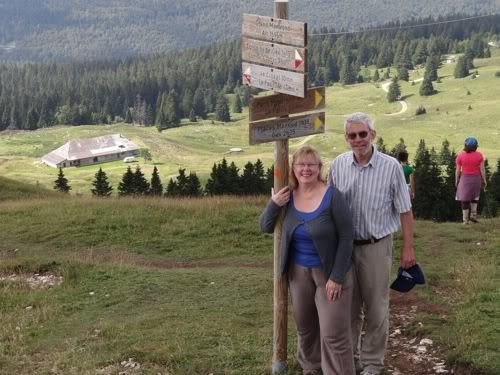 That's why I love Europe. When in the Black Forest of Germany, I could walk from town to town along well-worn paths. No car or other equipment needed. In Scotland we didn't need trailheads or even permission. We could open (and close tightly) any gate we wanted and start climbing. In France I can cross an entire region along a tabletop flat canal path or along the ridges of mountains. Back home, it's more about climbing a bluff for a view of the convergence of the Mississippi, Missouri, and Illinois river or following a stream in a gully when the wildflowers are in bloom (watch out for those copperheads just coming out of hibernation!)

As I add a few years and more than a few pounds, I now measure my health by where and how long I can walk. After all, I still haven't made the trek to the bottom of the Grand Canyon.

And so I did my best on this little afternoon promenade to keep up with the toddler and the 4-year old. No one was going to carry me for a short bit when I sighed Je suis fatigué. When the youngest started to be on the edge of not making it down, her ingenious father found a rare smooth spot and rolled with her down the hill until she was giggling and willing to go on. I took my own, unintentional, roll down the hill, too. With feet too heavy even to lift, I tripped over a rock and moved 50 ft. down the mountain more quickly than I had intended. At least I was 50 ft. closer to the car – and my new camera was safe.

We finished the last thirty minutes of the final descent hand in hand with Fanny, the 4-year old, skipping and singing bad renditions of "Frère Jacques" and "Alouette, Gentille Alouette." And every few minutes she'd peep excitedly "Regardez!" (look, look!). At what, I was never sure, but it took my mind off my feet and directed my eyes to a distant point. Which is not a bad way to get through life. When things get tough, just roll or sing with new friends, and always keep looking ahead instead of down.
Where do you like to walk? How do you make a molehill out of daily mountains? Share with us in the comment box
.