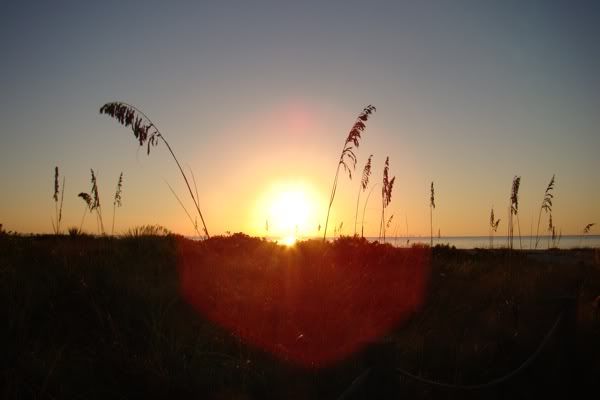 Yes indeed, a new day is dawning for me (this one is off Sanibel Is., FL)
Kismet is cool. As well as unforgiving. If you recall, on my last post I made huge declarations about getting healthy. Yep, easy pronouncements to make. Readers left me fabulous words of encouragement and advice. I did actually go to the gym and yoga class this weekend. Perhaps, with a little time, this HUGE DECLARATION could have just faded into cyberspace. I could have quietly gotten back to my dinner of Ding Dongs in front of the NCIS marathon on TV.

However, when flailing around for a Monday blog topic, I clicked over to one of my new favorite writing blogs, Mama's Losin' It, where you can find the most marvelous writing prompt generator. Here is what popped up when I clicked in the box:
Write a letter to whatever is stopping you from losing the extra weight you'd like to lose.
Ok, so this is where the kismet comes in because as I made dinner plans for stuffing my face with pizza and breadsticks and copious amounts of non-diet soft drink I realized that the universe and my blog readers were telling me different.

Well, I'm still going to worship at the altar of takeout pizza Sunday night since there is little in the house to cook, but here's my letter to my food demon and on Monday I begin in earnest.
Dear Fast Food,
I loved you dearly and you have meant so much to me over the years. You never were too busy for me or had plans with anyone else. I could drop by unannounced and you'd instantly greet me with that cheerful hello, eager to serve me in anyway you could, no questions asked except "Do you want sauce with that?" You always made me feel good, even if just until the final bite. You never once mentioned my weight or suggested a light jog.

You gave me everything I wanted – grease, fat, sugar, salt. You let me crunch and slurp and chomp to my heart's content. You demanded no effort of me, unlike at home where I would have to make decisions about what to buy and then what to cook. You were easy. No cooking and no cleanup. Every other thing in my life was hard. Life required planning and preparation or sacrifice or compromise. You gave me immediate pleasure when so much else demanded delayed gratification or gave no promises at all.
The late night call of kebabs in France
But I often felt dirty when leaving you. My fingers smelled like cheese sauce and ketchup speckled my shirt while chocolate milkshake stained my pants leg.

I tried to leave you behind in France, but in my lowest moments when I was tired or alone and bereft of willpower, I sought you out. A kebab and frîtes, or in my very lowest moments enticed by that dangerous American friend with chicken nuggets accompanied by all the usual suspects.

I know that you've tried to change and improve yourself. Salads. Carrot sticks. Yogurt. But it's not you, it's me. You are who you are. I have to accept that. I tell myself that we can take our relationship to a new, less destructive level. I know better, though. One hot apple pie and it's instantaneous relapse for me. One whiff of your breaded and fried scent and I surrender, seduced by my basest food instincts.
There's a lesson in this, I'm sure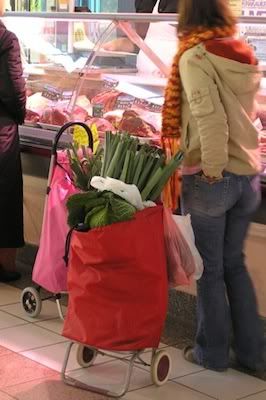 Oh, maybe one day we can have a chance encounter on a street, in a strange town, and I will be able to control my urges. That time is not now.

It will be hard to leave you behind. I can't drive down a street, open a newspaper, watch a show on television without you beckoning to me. Asparagus vs. 3-cheese nachos? I'm afraid I've danced with the devil for too long. Eventually, though, I'll be able to walk up to you and exchange pleasantries.

Oh sure, you'll try to tempt me by asking "Want fries with that?" But I know that the day will come when I'll be able to say "No" and mean it.
No great mystery why the French aren't fat
What's your own demon that you need to write a "Dear John" letter to? Food or otherwise, share a slice of your own brush-off in the comments box.