I (heart) French courtyards hidden behind thick doors
As you can see by the large purple button on the right I'm part of Rachael Harrie's Platform Campaign for writers. In addition to connecting with other bloggers in a multitude of genres, we Campaigners are also issued challenges to exercise our writing muscles. Here's the
first
:
Write a short story/flash fiction story in 200 words or less, excluding the title. It can be in any format, including a poem. Begin the story with the words, "The door swung open" These four words will be included in the word count.


If you want to give yourself an added challenge (optional), use the same beginning words and end with the words: "the door swung shut" (also included in the word count).


For those who want an even greater challenge, make your story 200 words EXACTLY!
In no way, shape, or form would I ever consider writing fiction – even a paltry 200 words of it. I decided that once and for all back in a creative writing class taught by the oh-so-talented-and-humorous Jim Thomas. I just can't make stuff up.
I was about to bail on the first challenge, but I remembered that part of my intentions in this midlife transition was to push myself in new directions. Hey, I learned to communicate enough in French that I won't ever starve when over there. Right? So I stared down that blank screen until I had bled out
exactly
200 words of fiction.
And, please, if you're a fellow Campaigner please "like" me. Let me know where I can find your story and I'll do the same.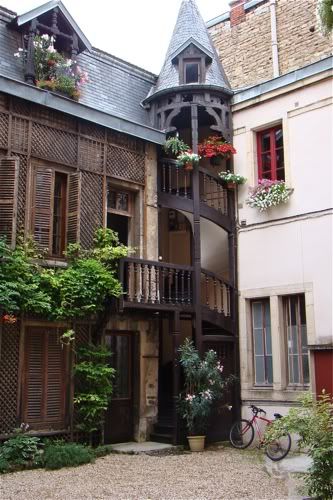 Home
The door swung open. Wide and towering, the ancient, arched oak framed a wrought iron inlay of rambling grapevines. Beyond she saw the garden. Red rose topiaries stood above the fray while knot gardens of boxwood and lavender filled the center. The cool limestone blocks of the 17th century walls stood guard.

Only ten seconds to cross the ancient cobblestone courtyard to the waiting French doors and I'd be home, she thought.

She already saw herself sitting at the long trestle table in her kitchen, its wooden top marred by a century of knives slicing leeks and gutting rabbits. She knew by this time tomorrow she'd have an apple tart cooling on the iron rack by the window lined with pots of red geraniums.

"May I help you?" a stylishly patrician woman asked in French, startling her by coming quietly up behind.

"No, no. Je regarde," she answered with a flush of embarrassment at getting caught looking.

With one last wistful look back, she walked on down the street for an afternoon of writing at a nearby café as the owner of the Renaissance mansion built with the wealth of French dukes deadheaded a rose before the door swung shut.
The courtyards of Renaissance hôtel particuliers in Dijon are an architectural treasure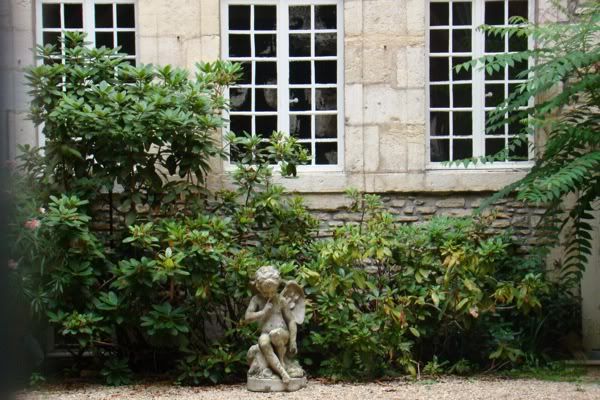 Where would you have a home if you could pick anywhere? Describe it for us in the comments box. Then go here to see what a great piece of flash fiction looks like.