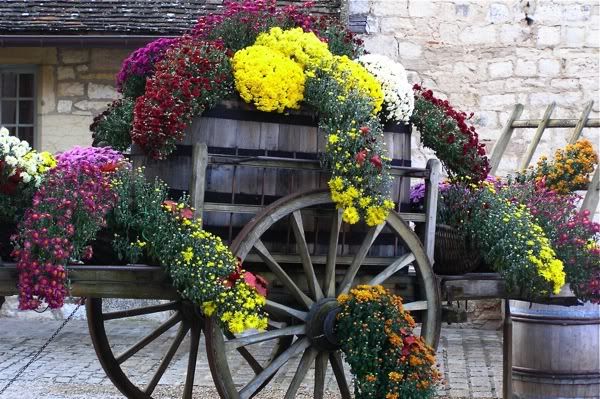 The French do love their flowers
I'm a child of autumn.
Sun hot chrysanthemums and fiery Missouri sugar maples
Compete in me with dark winds prowling the night, moaning of the oncoming cold.
The sidewalk snap of discarded summer shade pops with each shuffling step until
Silent, jagged flashes light the night,
Announcing a dogged veil of rain
To wash away what once had been bright and warm.

My daughter is a child of autumn, too,
both of us born on the same crisp morning.
Thirty years and an ocean separated us, though, waiting eight years for the moment
when we would meet in a hot Russian play yard.
We were born just missing both All Hallow's Eve and
All Saint's Day.
We are neither demons nor saints.
We share both summer and winter inside.
We flash hot and cold
Together
Like a late autumn dance with nascent winter.

We children of autumn embrace
All seasons
As the last bright windflowers bob their white faces above delicately arching necks
Fall's purple and umber pansies hug the ground,
Staying out of winter's way
To survive ever so slightly longer.
And the last bright sign of the season
Cascades from on high, one dropped leaf at a time
So that in one quiet sleep --
Without so much as a chance to say farewell to our time --
Winter greets us at dawn.

This poetry attempt is the result of another writing prompt by Write on Edge: For you, what does autumn evoke? Show us in 300 words or less.
What does autumn evoke for you? What season defines you? Share it in the comments.
And when you're done telling us about your personal autumn, click on over to this piece I wrote in the fall of 2009. I was surprised to see how today I echoed writing I had already forgotten.
The colorful Burgundy tiled roofs mimic the autumn
I may not post for another week because on Wednesday I have the surgery for my neck and arm I had mentioned in an earlier post. It shouldn't leave me incapacitated; however, the medications might make it difficult to put two literary sentences together for a few days, so I'll use that time to catch up with reading all the great blogs out there. See you online soon.