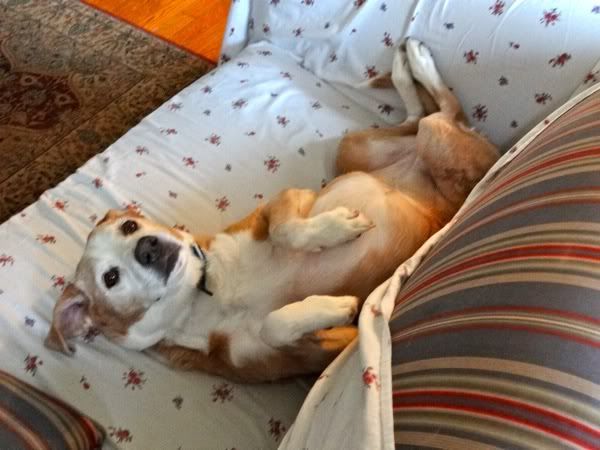 Skyler says, "Things are looking up around here now that Mom can pick me up again and put me in the car
to go places. I was getting bored."
One of the most horrendous side effects of my recent surgery and recovery was to realize that I am old. Not "getting older." Not "aging gracefully." But old. I now find myself drawn into those infomercials for Lifestyle Lifts, or the French cantaloupe miracle face creams that will make me look like super-model Cindy Crawford, or those electronic devices that will remove hair from places that only my grandmother had to worry about. I am old. Mirror, mirror in my hand, who's the oldest in the land?

After the cervical fusion I could turn my neck only slightly to the left or right, and not up or down at all. This lack of mobility made it difficult to handle such grooming routines as styling my hair, changing pierced earrings, or searching for errant dog hairs that took up residence in my eye. I couldn't comfortably lean in over the vanity in order to move closer to the bathroom mirror for any of these tasks. I decided my best solution was a new hand mirror.

I bought one with 10x magnification on one of the sides. That's when I discovered a mustache growing above my upper lip that had to be a cousin to – or even a twin of – that thick patch of hair growing above Geraldo Rivera's mouth. How could I be so blind? Had it been hidden by some anti-aging rose-colored glasses? But now I see. It's a veritable forest of luxuriously long facial hairs waving in the breeze, so numerous that they could never be tamed simply with a pair of tweezers. With the help of my new 10x personal jumbotron I even found one of those wicked creatures trying to plant its flag and stake a claim in my chin.

Self-portrait post surgery with swollen face, cervical collar, and bone growth stimulator
But that's not all. Oh no, I'm even older than my mustache lets on. In fact, I must be as old as the moon because surely those things called "pores" are as deep as those craters we see on a summer night with our telescope. The blood vessels on my chin (I'm sure courtesy of my Grandma's rosacea) flash like Las Vegas neon, spreading out across my fair skin like the Amazon River and all its tributaries. My eyes somehow have become framed by the miles-deep canyons of the American Southwest. And while I was willing to admit to the two or three small age spots on my cheek and brow, I now see that it is really a dozen small Saharas spreading quickly across the landscape of my face.

Where would I draw my own line now in resisting this newly discovered downward spiral?

I'm trying not to fixate on the magnified side of my mirror, to return to the regular side and my attitude that, although I don't look twenty-five anymore, my face also doesn't look like I spent my life puffing on cigarettes while frying in the sun. I look good enough when I walk out the door each day. I make the effort to do the best with what I'm given.

What's a mirror image anyway? It's the reflected duplication of an image, but in reverse. That piece of silvered glass shows me my age . . . decay . . . every fault. I know that's me inside the red frame I hold in my hand; I recognize myself. However, it's just an imitation. The real me – the reverse of that reflection – isn't aging as quickly on the inside, the part the mirror can't see. I finally returned to yoga class after almost two months of inactive recuperation and found that I could still stand strong in my tree pose, and I left more energized that when I had arrived. I have a new pile of books to read to keep my mind agile. I'm thinking about where I'll travel next because curiosity about new places, in my opinion, is a better youth tonic than Retin-A.

I'm starting to make friends with what I found under the 10x magnification. There might be a few things I can do to spruce up that version of Julie that aren't the equivalent of knocking out a load-bearing wall in a home renovation project. But for the most part I think I'll continue to put my focus on the self I can't see, the one looking out on the world through what I now know are clearly aging eyes. That one is easier to improve than the magnified mirrored image I saw.
What makes you feel older? Where do you focus your attention or energy when you want to feel younger? My oldest friend and I used to joke that we never felt our real age (until recently). What age do you usually feel? Please share your thoughts on aging or your favorite "anti-aging" technique in the comments box.
The best way to get younger, Skyler and I think, is to head out for a good walk with good scenery
(our first excursion post-surgery)
I've been MIA on a large scale since my cervical fusion surgery. I've been MIA on my blog, on e-mail, on Facebook, on Twitter, on websites of friends and organizations that continue to post compelling things I should be reading but have passed me by. Time – and the internet – wait for no man or woman. The surgery went fine. I felt improvement the moment the anesthesia wore off. What has kept me down for so long was a steady stream of physical ailments, one after another, that flat laid me out on the couch, no energy even to read. Focusing my eyes on a computer screen seemed like too much effort. But I've started physical therapy and feel back on track. I hope to catch up with all of you soon.