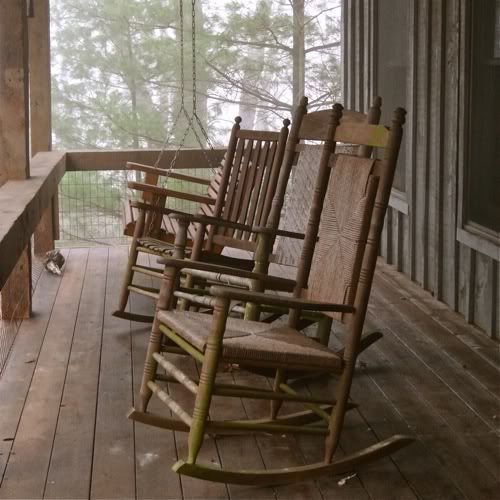 Burnt Mountain is for sitting
While the excitement of places like New York city (here and here) shake up your expectations and overwhelm you, those smaller, out-of-the-way corners of this world attract me again and again. One of my favorite places to wander either in a car or on foot is Pickens Country, GA. My husband's family has property on Burnt Mountain, just south of the Chattahoochee National Forest and the southern tip of the Appalachian Trail. White pine trees, sharp-topped mountains, Georgia marble, and good barbeque define the region. Some corners of the county have more chickens and cows than people. There are bears, but we usually see the effects of their visits and rarely see them.

When visiting there, I feel enfolded in the arms of the mountains, especially when the fog snags on the sharp tips of those ancient hills and won't clear until after lunch. The family gathers every New Year's holiday to spend a few days unplugged from the world and to down copious amounts of black-eyed peas and collard greens for the year's good fortune. We hike and read and eat cornbread. Today I'm sharing with you the winter world of Burnt Mt., GA.

When the fog rolls in the world becomes an abstract study in black and white
My brother-in-law said he couldn't remember the last time he saw a kingfisher in the area. It sat so still I thought it was just a decoration someone had added to the dock on one of the small lakes in the area.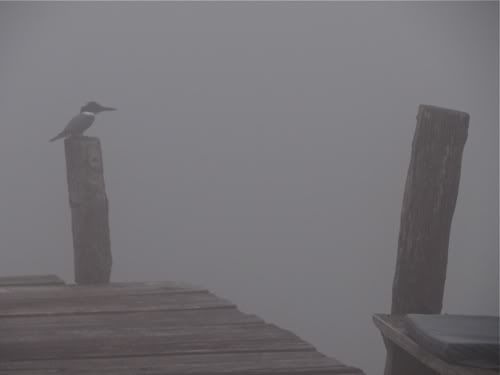 This road to nowhere is really a levee that divides a lake (left) from the spring that feeds it at the bottom of the steep ravine on the right. Only a couple hundred feet long, it's still white-knuckle driving when you cross this stretch on a foggy night.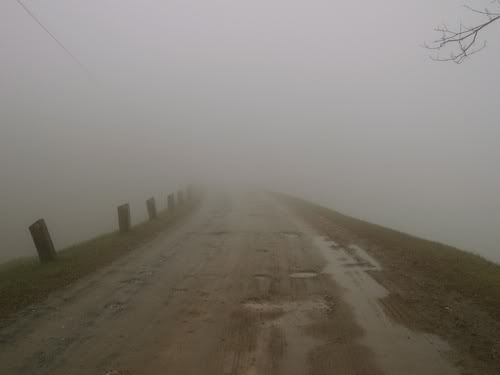 Somewhere just beyond the trees is a lake.
Pickens County is dotted with small churches, frequently Pentecostal. I guess this makes the mountain a particularly blessed place.
What is your favorite small or out-of-the-way place to visit? What do you find there; why do you go? Please share in the comments box places that I need to add to my itinerary. I promise not to tell anyone else about this secret destination (shhhh).