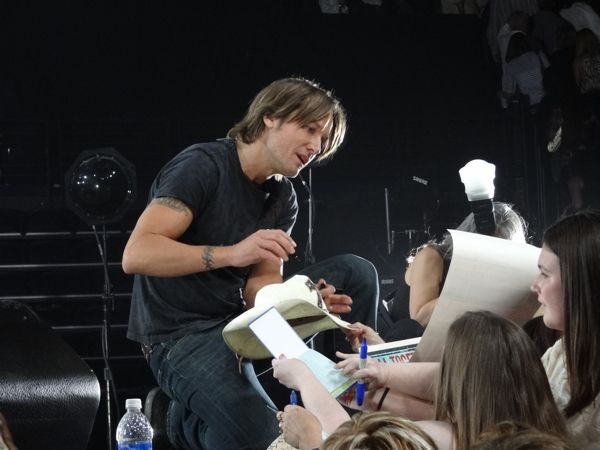 Keith Urban takes time to talk to his fans after a show
Last week I made another pilgrimage to my Mecca – Nashville. I'm a huge fan of country music and swooned over Conway Twitty's "Hello, Darlin'" way back when. But this particular visit was to worship at the feet of my guitar god, Keith Urban.

As I told you in my last post, I traveled there for the All For The Hall concert to benefit the Country Music Hall of Fame and Museum. Keith Urban and Vince Gill hosted the show and invited a whole passel of their music-making friends to raise money in support of programs the CMHOF takes to the community. But let's be honest, the #1 reason I traveled there was for this: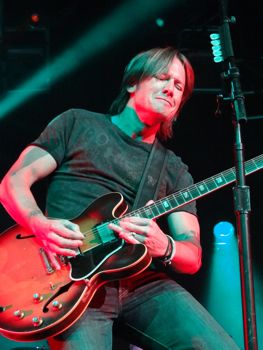 While part of this trip allowed me to
bow at the altar of books
and filled my word-loving soul, going to a Keith Urban concert is like a spiritual cleanse, an emotional release. He's a man who was born to entertain; he was born to play guitar. Three hours in the front row at one of his concerts watching him follow his passion can be as reinvigorating for his fans as a weekend on the beach. He anoints you with his unmitigated joy in making music in communion with the crowd.
Despite his country music awards, Australian music awards, and Grammy Awards he continues to bring his personal warmth and enthusiasm to as many people in as many ways as he can. After concerts he's gone out to the parking lot of arenas to play a short set for the stragglers who haven't made it to their cars. He's played free shows in shopping malls and
train stations
even though he could just spend his time filling arenas. At every show he
wades into the crowd
to play in the most up close and personal way he can. He invites audience members onstage for singing contests or just for a hug.
What comes through in every performance is his sense of immense gratitude that he is allowed to play his music for us every day. The road to success was filled with hairpin turns. After all, who would assume that when a young boy in Queensland, AU says he wants to become a country music star in Nashville that it's a slam-dunk? People on both sides of the ocean thought he was insane. Without a plan B, though, he kept writing and playing until finally people heard what he wanted to say musically. In this new American Idol culture, we forget the struggling artist still exists. He kept chipping away at Music City for almost 15 years before he had a hit record.
He shows that gratitude in so many ways. On the morning of the AFTH show his fan club hosted a free breakfast for the members who had bought tickets to the concert. The 300 or so who managed to make it there in the early hours of the morning assumed Keith would show up to thanks us for supporting the CMHOF, perhaps sing one song before heading off to rehearsal. However, after the first song, he sang another, and another, and another. And he asked who had come the farthest to the show because his fans actually cross state lines and national borders to see his shows. A woman called out that she had come from Finland. Finland, Indiana we found out. And he sang requests. And he sang songs about being an
Ed McMahon Sweepstakes winner
he had written before he had won the music lottery himself. His "thank you" lasted almost an hour.
Up close and personal at his fan club appreciation breakfast
The AFTH concert put me somewhere north of four dozen Keith shows since I started following him. For his fans, "following him" is a literal act, not a metaphorical one. My concert count is small potatoes compared to the woman next to me at the stage that night. She was on her 98th show. The farthest I've gone to see him perform is a small club in Birmingham, England. I know fans who've traveled to his shows in his home country of Australia. When people ask why I go so often, they inevitably follow it up with, "Isn't it the same show every time?" No one ever asks me "Why do you go to church every week? Isn't the service always the same?" No one says, "If you've heard Beethoven's 5th once, why listen again?" or "Van Gogh's 'Starry Night' hasn't changed. Why go to the museum again?" Or "Why read To Kill a Mockingbird again?"
Most of us chug along through our days surrounded by people giving half-hearted efforts, perhaps doing jobs that make us just count the hours until 5 o'clock. The atmosphere is filled with cynicism or competition. We might feel stuck. We're not even sure what we want to do. If I feel like that, a trip to a bookstore, or a writing conference, or a Keith show is exactly what I need. They are living pictures of what persistence and a dream can achieve. When I've lost ardor for my own path, I want to go someplace where I can soak up the intensity of someone who might be living this philosophy: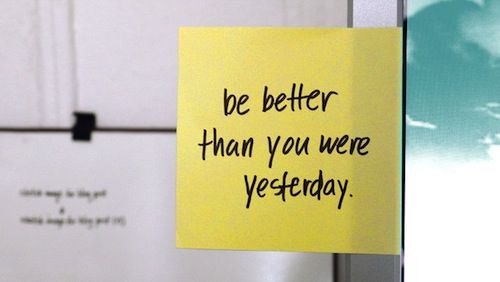 When I surround myself with excellence and passion, even if just for a couple of hours I want to dress myself in that feeling and wear it for a week. I want to create. I want to do something with a lasting impact, even if it were only as mundane as reorganizing cabinets so that life in my kitchen works so much more efficiently. I want to pursue a goal and take it as far as I can. Yes, the feeling may fade in a few days, but that just gives me an excuse to look for the next model for living my best life. Or I can just crank up some Keith Urban music and dance around until everything that drags me down has been pushed to the back and I'm ready to move forward to something great.

What do you want to have passion about? What do you do to pump it up when you feel it fading? Get us excited about something in the comments box. Let us know what drives you and brings out your creativity. How do you get back in the game when life has just been dragging you down?
"Put You In A Song" at the All For The Hall breakfast concert