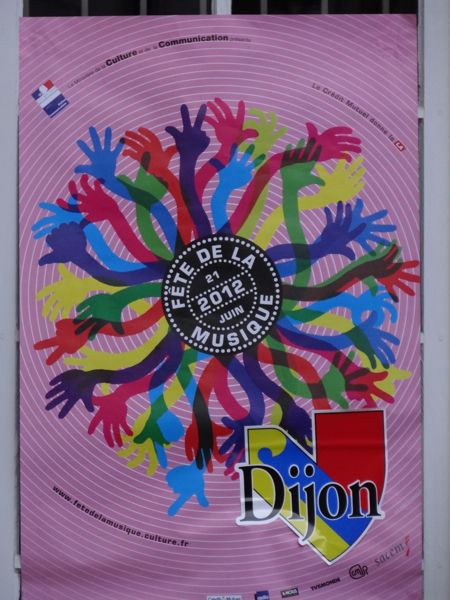 What a party it was. Wish you could have been here. All of France took to the street Thursday night as part of Fête de la Musique. You might know it as World Music Day, an event that started in 1982 as a fun way around the globe to mark the summer solstice. Perhaps your city did something to recognize it? In Dijon music was found on practically every plaza and major intersection. All of the entertainers were local.

The people of Dijon usually respond in abundance for events like this. And they happen often in this city. For the rest of this month there's a music festival that presents music at all the lesser parks as a way to highlight outlying neighborhoods. On the last weekend of this month there will be a jazz festival in another corner of the city.
People poured into the center of the city for the festival
That doesn't even include the organ concerts in the cathedral, the summer opera season, and the music series that brings music to many little pubs and cafés throughout the downtown area. And about 85% of it is free. And then we have July . . . more of the same.

So the people showed up in abundance Thursday night. We were elbow to elbow. Many of the smaller food sellers moved to the sidewalk to entice pedestrians with crepes or hotdogs or beers. Cotton candy was my poison of choice. And the people did conga lines down the street or waltzed or head-bobbed to the music.
"Barbe a Papa" definitely bigger than my head
-- and this wasn't even the largest size they sold
A lot of my favorite music was on the side streets. I don't think they were official performers. More like "I have a monitor and microphone so let's play something!" Since you couldn't come to the party, I'm bringing a bit of the party to you (it's my first time uploading to youTube. Sorry if you experience technical errors).
I found these guys at the end of rue Berbisey (my street), far from the "official" festival. They were the most fun, sort of like klezmer music on speed.
How about some smooth French jazz?
Care to dance to some regional music?
I seemed to be the only one in the courtyard who didn't know this tune.
So, what does your community do to celebrate summer? Please share in the comments box and let us know how many spaces you have available for friends to spend the night when we come to join you in the fun.