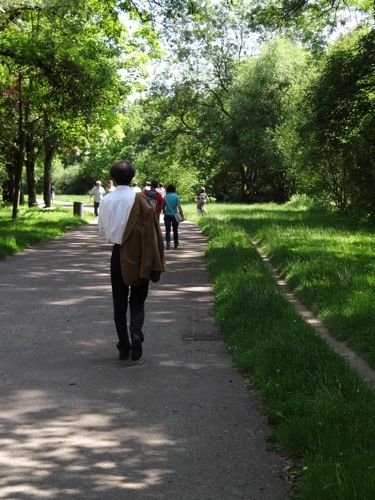 The French don't need any special clothes for this exercise.
They just put one foot in front of the other
What did you do on Sunday? Did you race off with your kids to some sports tournament? Was it a time to hit this week's sales or race around trying to get all your errands finished before work on Monday morning? How much rest did you get on this day of rest? How much time did your family spend together?

Saturday night on rue Berbisey in Dijon was crazy. Motorcycles were racing through the narrow streets of this neighborhood. Disembodied voices called out names I couldn't quite catch. Occasionally a glass shattered, perhaps at the Australian-themed bar on the corner. French, Arabic, English, Italian drifted in through my open kitchen window. Something like a blast on a ram's horn split the night, perhaps to announce "Let the party begin."

Then the sun rose. Residents of the neighborhood scurried down the street, their morning baguettes tucked under their arms. One by one I heard keys rattling (my key ring has three just to get me from my front door to the street), 300-year old doors banging shut as apartment dwellers depart one by one, the sound of water spraying courtyards and sidewalks as clean as possible when they wear centuries of grime.

A little before noon I step through my big, blue porte and begin my walk across town to the home of a friend who has invited me to lunch. The diesel cacophony from Saturday night is gone, almost as if a city-wide ordinance has banned any vehicle with an engine. It's time for la grande promenade.


A six-year old with blonde hair and long legs like her mother dances down the street trying to teach her younger brother her own particular jazz syncopation – doo doo da doo doo da la la. A young couple, she with a braid down her back and he with a yellow straw pork pie hat glide by on their bikes. I turn the corner at rue Piron and pass a whole family – grandparents, parents, toddlers in their Sunday best either heading to church or searching for lunch after. We encounter a mirror-image family, with a curly blonde pixie on a pink scooter and a purple bunny who squeals in delight when she sees another little girl just like her.
Everyone walks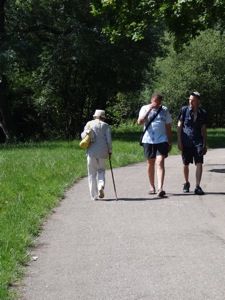 After lunch my friend and I head to le Arquebeuse, the botanical garden, where all the trees have been decorated with 3 x 3 photographs of cows as part of an exhibition at the science center honoring La Vache. Every bench is filled with readers, and lovers, and older couples enjoying the sun. We pass through the garden and begin our march down the Promenade de l'Ouche, a beautiful dappled path with the Ouche River and its ducks and herons and water lilies on one side and a band of trees on the other.

Half of Dijon is on the path. Fathers and sons weaving bikes in and out. Young parents pushing strollers. Older citizens going as fast as their canes will let them. Fishermen sitting on the shady bank smoking their Gitanes. Teenagers racing their bikes out to the lake at the end of the trail. We pass two dozen wooden benches and all are filled with people and their dogs. There are probably more people out here than walking the town center, which is at least 80% closed for the day. A few restaurants open up for lunch. More for dinner. There is the museum, and the movie theaters.

Sunday in Dijon, though, is reserved for walking. For quiet. For calm. For family and friends.

So, how did you spend your day?

What would be your perfect Sunday? What kind of Sunday ritual does your family have now or did it have when you were growing up? Talk about Sundays, past and present, in the comments box, please.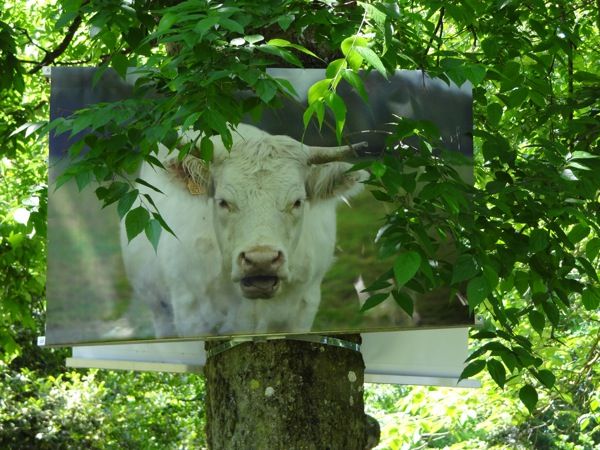 I still don't have an answer to my quiz from my last post, so the contest is still open. Hop on over and see if you can figure out the mystery culinary thingamajig. Maybe this week I'll take a break from writing – or sitting in cafés – and explore the kitchen stores or take it to the cooking school and ask.
Also, I'm still open to blog or photo ideas you'd like to see (more photos posted on Facebook).