The whimsy of French windows
I'm a month away from hitting the road, or rather hitting the river since Brad and I will be boating it up the Seine north to Normandy in France (more about that when the time comes). But already my head is full of travel. "Travel" is one of my favorite words because it's so expansive. Travel expands my mind, my connection to the world, and my circle of friends. I'm up for it whether it's an overnighter just down the highway or another country. Whether city or country. It means I'm about to bring something new to my life.

Here are 5 random thoughts on travel. I hope they might spark random thoughts of your own that you'll share.

1) Today my better half, Brad, leaves for a research trip and won't be back until after Christmas. First Germany. Then France. Then Tunisia. The transportation logistics have been a challenge. The packing for changes of weather over that extended time hasn't been easy since he always does the "one suitcase plus a backpack" thing. There's the "not speaking German" thing, of course. Mostly, though, I wish I could be with him for the entire trip.

Sometimes, though, there are things that tie me to home. And my furry girl, Skyler, is that. She is getting old and had a bad summer when I was gone. At this stage of her life I can't abandon her. I couldn't enjoy such a long trip from worrying about her. I'll just join Brad for a short time.
A French dog, not Skyler
2) I've become enthralled by several travel blogs since I myself started blogging. However, there are two I never miss. Kristin Espinasse's blog French Word A Day convinced me that France wasn't such a scary place. She introduced me to the day-to-day life of the country beyond Paris and taught me something about the personality of the place that made it seem manageable. She offered her American take on her adopted homeland with great good humor and enviable photographs, all of which you can see in her two books Blossoming in Provence and Words in a French Life.

The second blog that is a staple in my week is Southern Fried French by Lynn McBride. Most blogs about France focus on Paris or Provence. I was so glad to find Lynn's because it was based in the Burgundy region, which is my home away from home. She chronicles all the little village festivals, tells us about people we'd love to have as neighbors, and like Kristin she teaches us a thing or two in her book about learning language as an adult. But most importantly, she ends most posts with a creative recipe that melds the culinary elements of her American Southern background with her new country's love of food.

A marquise - I learned the word for this glass cover from Kristin Espinasse
after so many years of loving and photographing them.
3) When I'm in France I've become addicted to watching the video channels. First, it's because American pop culture is everywhere, so it gives me a chance to hear a familiar language. But I also love to see what other cultures are obsessed with. For the most part the French videos don't do much for me. The females are waifs who sing in little girl voices and float around in something gauzy, longing for an impossible love (at least that's what it seems like because I don't understand all the words).

However, the French pop singer Zaz just blows them all away in my book. Her influences range from Edith Piaf to Ella Fitzgerald. She has a unique jazzy vibe that makes you want to stop what you're doing and bop to her tune. I ask myself how Zaz can have over 17 million views on one video, yet her fame never spreads to this country. Whether you understand the language or not, her talent is universal. Get your weekend off to a good start by listening to her most popular song, "Je Veux" (I Want). This version is the original video. This version is live with English subtitles for the lyrics.

4) I've fallen in love with Henri, Le Chat Noir. This tuxedoed cat covers both the sublime and the ridiculous as the premier French cat philosopher on the internet and winner of the "Best Cat Video." Can you say ennui? From his website you can access his videos, his Facebook page, and his tweets.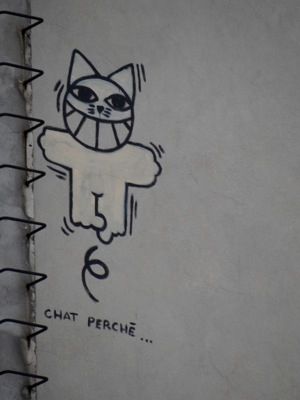 5) And finally, travel for me means photography. And I'm already trying to come up with a photo theme for my next trip to France. I've done dogs. And windows. And flowers. And doorways, And street art.

What have been your best photo themes when you travel? I'm taking all suggestions.


Share in the comments box what travel means to you. If you're more of a homebody, I'd love to hear about that, too.
French doors and flowers in one photo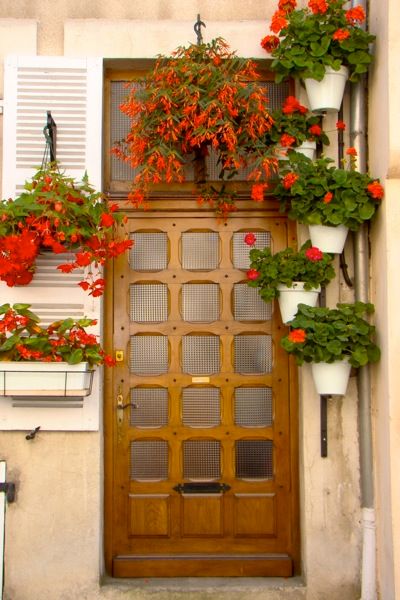 Today's post is part of the Random 5 Friday theme. Click on over to the site to see other interesting takes on randomness.