Sidewalk graffiti on rue Chabot Charny, Dijon FR (probably some unkind reference to the town's symbol, the owl)
Late night. Brad and I trudging home through the wall of heat and humidity down rue Chabot Charnay after an organ concert at église Saint-Pierre. Platoons of bicyclists heading home along the car-free streets in centre-ville. A lone motorcyclist makes pedestrian heads turn as he throttles down and roars up the block at highway speed. Faint rock music comes from an open window high above the street.

Then a flash of gold to the left out of the corner of my eye. Above the tall iron gates that shut off from the street a courtyard to one of the Renaissance stone mansions populating the neighborhoods I see the pointed crown of a gleaming gilt mirror. As elaborate as anything found in Versailles, it is carved with all the excessiveness of French pre-revolutionary abandon. Just the top two feet of this piece of art are visible through that second-story window – a gentle peak that sweeps out and down like it wants to take off on its golden wings. From the width, I imagine the mirror to be 8 ft. tall or more, but hardly dwarfed in a room with 15-foot ceilings and 10-foot windows open wide to entice in any evening breeze that the room could possibly capture.

"Look, up there," I direct Brad. Before he can even focus, though, an invisible hand extinguishes the light – and the 30-second view that will last a lifetime.

Look up. Look right. Mind the gap. Interdit sauf livraisons. Poussez. Tirez. The color of strawberries. When I travel my eyes are wide open to the smallest objects. Everything is new and interesting and delightful – even when it isn't. Travel gives a different perspective on the world. Yes, of human relations, but especially on the ordinary space I move through every day. Do I carry this awareness home like a treasured souvenir, un memoire? Will I become a traveler through the quotidian of my own life when I'm surrounded by the familiar again?
The roof cat of Maison Millière, a classic
15th century building in Dijon (cat is 20th c.)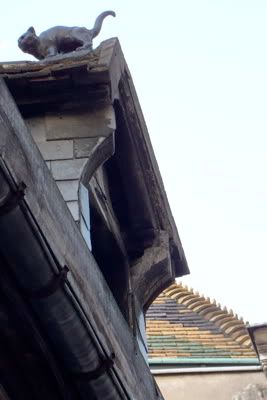 What have you seen lately that caught you by surprise? Share your memoire in the comments here. I love reading all of them.