I don't think these three Dijon fellows need this week's Top 20 to make
their dining experience more enjoyable
Brad and I walked into a restaurant Sunday night for a little dinner and we were assaulted. Yes, assaulted. I don't know if it was Queen, or if it was Toby Keith, or if it was a mash-up of Toby Keith doing Queen with a little Chuck Berry thrown in for good measure. All we knew was it was TOO DAMN LOUD. We asked to be seated as far away from the music as possible so we could, oh I don't know, talk. So we were led to the darkest corner of the restaurant where we were in sore need of a flashlight phone app to read the menu.
This wasn't a bar. There were tablecloths, low lights, inventive fish items on the menu, and art on the walls. But the music was cranked up like it was Disco Night and
Glow Bowling
at the local lanes.
Who was the first American restaurateur to decide that simple conversation with friends and family was not enough stimulation during a meal?
Research out there has focused on the connection between food and sound. Scientist Charles Spence and chef Heston Blumenthal performed
an experiment
in which identical ice cream servings evoked one reaction with the sound of bacon sizzling and another with farmyard sounds. Blumenthal jumped on the sound/food bandwagon so completely that he created a seafood entrée that arrived at your table complete with a mini-iPod tucked into a decorative seashell on the plate.
Dinner with surround sound? You're kidding me, right?
Of course, when you're plugged into a personal music player listening to sounds of the sea while eating, it makes it a bit hard to converse with anyone else at the table.
I don't think there is a single soundtrack that could have made
this strawberry pie any more delicious than it already was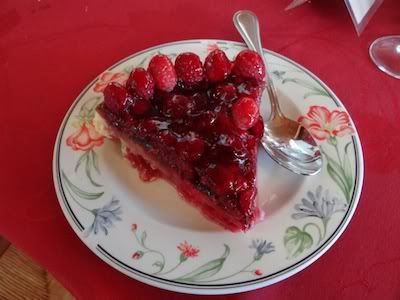 I understand the concept of mood music. We enjoy a little classical music in the background when we sit down at home. But why do American restaurants have to make it SO DAMN LOUD? (Excuse me for shouting again). This isn't about eating while listening to the band at a jazz club. It's not about live mariachi music on Fridays at my local Mexican joint. It's not about some quiet classical playing under the conversation at a white tablecloth restaurant.

It's about Music. Playing. Too. Loud. Unnecessarily. Everywhere.

When I return from France each year, the longing that never leaves me is to have the French dining experience when I go out. The average restaurant is there to provide delicious food. You bring the entertainment with your conversation. No music bombards you. No pesky waiter tries to be your BFF by saying "Bonjour, my name is Phillipe." He doesn't return every five minutes to see if you need anything (we'll signal you if we need you). And he doesn't try to hustle you out in under an hour to turn the table over four times before his shift ends to earn more tips. (But I digress. Those are all peeves to address in another post.)

French restaurants are traditionally small because they're built into the already existing medieval spaces. Perhaps ten to twenty tables, tops. These tables are also less than a foot apart from each other. But still, they are blissfully quiet. You converse in low tones with the others at your table. The sounds of clinking silverware, occasional laughter, and the pop of a wine cork are all that you hear, even if a family with three children sits two tables away.
An unexpected chance to share dinner in Beaune, France with my favorite blogger, Kristin Espinasse (left).
Great wine and chocolate for dessert. No music could make it better. Read her blog here
More than what I eat, the people with whom I share a meal and the stories we tell stick with me. I don't need a multi-sensory experience to enjoy my dinner. It's enough just to have time to make the human connection – or even to be alone with my own thoughts. Yes, I know that's a radical idea in this über-connected age, but sometimes my own company is enough.

So if you want to see me walking through your restaurant doors more often, Mr. Restaurant Owner, try offering a little taste, an amuse-bouche, of "The Sounds of Silence."
Music or no music? What's your take on the situation? Have a quiet conversation about it here.
After dinner on the streets of Beaune with vinter Jean-Marc Espinasse, my Brad, and Kristin Espinasse.
That's what a dining experience is about.
See what else I've said about the sounds of France here. And don't forget to check out Kristin's fantastic stories and beautiful pictures of France here.