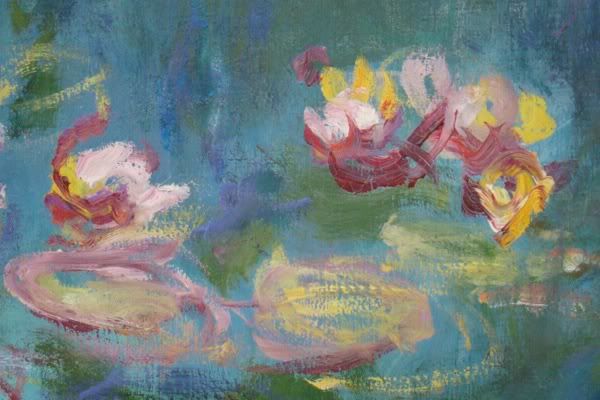 A close-up view from Monet's Water Lilies at l'Orangerie Museum in Paris
If, like me, you spend your "only for a minute" computer breaks watching too many videos of sneezing baby pandas or adorable French children spinning incredible tales of a poor popotamus then I'm here to offer you an alternative that makes you feel good about not doing your work today.

One of my favorite travel activities is wandering through museums. Yes, I've been to The Louvre in Paris and The Hermitage in St. Petersburg, Russia. If you want advice on tackling the latter, I tell you now that the most I can report is the location of the only restroom since my newly adopted son had a bladder the size of a spring pea that week. I've spent a memorable afternoon in envy of the talent found at the Quilt Museum in Paduch, KY. I've popped into the John Deere museum in Moline, IL (but draw the line at a photograph standing in front of giant, green farm equipment). This past summer I loved looking at the pornographic wine corks and church weathervanes at the Ecomusée de la Bresse bourguignonne located within the Chateau-de-Bresse in Pierre-de-Bresse, FR (I admit, though, that I just didn't have it in me to visit the nearby museum of wheat and bread; however, I have been to the salt museum in the same region).

The art in my own St. Louis Art Museum is so familiar that I recognize when they've changed out the display in a room. Each year that I'm in Dijon I spend more than a few afternoons wandering the halls of the former dukes' palace, now the Musée des Beaux Arts, or sitting on a bench in my favorite space, surrounded by my friends on the walls and writing away the afternoon with the sun warming my back through the 15-ft. windows that were thrown open wide centuries ago to cool the dancers who once crowded the area during the lavish balls hosted there.

Rodin's "The Cry" from his Paris museum
There is so much art left to see, though. That's why I'm jumping for joy at this absolutely fabulous website I stumbled upon. Bookmark this blog page you're reading right now and then run over to see the Google Art Project. (And then as soon as you've looked, hurry back here.) While I might let loose several explicatives late at night when Google changes something in my mail program without asking or "simplifies" my blog functions that only make things more confusing for me, all is forgiven when I immerse myself in the beauty this art offers.

You can go here to get the story behind the project and its hopes for the future. When on the website itself check out the visitor guide to see all you can do to make your art experience unique to you. What you get is the chance to see up close – really, mega-zoom, HD up close – a tour of some of the best art on the planet.

A trip to Amsterdam may be beyond your imagining, but now there's no reason you can't take a little trip to the Van Gogh Museum on your lunch break. Or you can devote your evening to studying the faces in Rembrandt's The Night Watchmen at the Rijkmuseum without being trampled by tourists plugged into their audio tours rather than the humans standing behind them. Ouch, my toes!

Go. Indulge yourself. Travel a little and still be home in time for dinner.

What's your favorite work of art or museum? Tell us, here, what we're missing.
A pair from "The Mourners"

alabaster tomb sculpture, Dijon's Musée des Beaux Arts