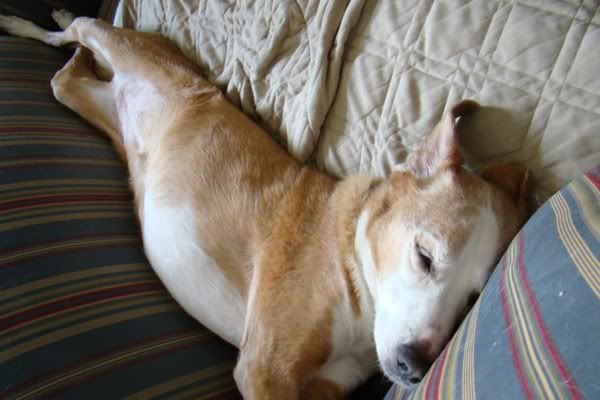 This is what my Skyler does all day now unless I bring out the leash for a walk. I'm too tempted to join her.
I'm in horrible shape and it's all my dog's fault. You see, she's getting old. She doesn't get off the couch much and chase that ball or run down rabbits in the yard. If we try to walk farther than around the block, her back leg (the one that had ACL surgery when she was at her athletic peak) starts to quiver and buckle. And that is why I'm in horrible shape.
For over twenty-five years I counted on my dogs for getting up and moving. I had dogs that were smarter than me and needed the stimulation of seeing something new every day. They were not happy just sitting in the backyard waiting for something to happen. They wanted to explore the world. So we walked. And I made primary criteria for any house we bought whether or not the sidewalks actually went someplace and whether sidewalks went in enough directions so we could have different sights and smells every day of the week.
We'd jump in the car and visit all the different parks to walk. We'd hike trails amid fields of bluebells and late summer crops of butterfly weed. We'd walk in the rain and slip along winter's icy walks while everyone else was snug in front of a blazing fire. I'd get up at 5 a.m. to walk before the summer sun baked their long, dark hair and tote a water bottle and portable water bowl to prevent heatstroke. We'd walk unencumbered by cell phones or music players, each enjoying our quiet thoughts or often talking to each other.
And so, shall we say, I've gotten a bit out of shape now that I'm down to one arthritic dog. And put on a bit of weight. But plenty of women my age say "Hey, what can you expect? I happens when you get older." But a friend I hadn't seen all summer told me I looked like I had put on some weight. Ouch. Thanks for your honesty. And I just found out my 80-something father-in-law is preparing for a trip hiking in the Himilayas or somesuch place. Double ouch.
I took my dog, Skyler, to the doctor this week to see what to do to help her weakening leg. In all of the years I've had her, her weight – and the weight of any of my dogs – never varied by more than three pounds. Why was it so much easier to keep my dogs healthy than myself? I would never feed them the junk I put in my body. I would exercise them every single morning, no matter what else was on my agenda.
So today I pulled out my membership card to my gym and went. And I pulled out Michael Pollan's Food Rules: An Eater's Manual to get my focus off of drive-thrus and back onto food. It can't be that hard. Right? The secret to a long life, as Pollan tells us, are these seven little words: Eat food. Not too much. Mostly plants.
So I'm going to get healthy again. And to do it I'm not looking to a celebrity diet in a magazine. And I'm not buying one more late night infomercial exercise video. And I'm not going to eat low-fat anything (no one got too fat from eating real yogurt). Instead, I'm looking back at places I had hiked when I had all the energy in the world. I think I'll paste them all over my office while I think about where I'm going to hike next. Enjoy the little picture show of what I could do before my dog let me get old and out of shape.
Getting high in Sedona, AZ (can you see that little blue dot in the middle? That's me)
One of countless unnamed high points on the Isle of Skye, Scotland
(The fellow who took the picture had climbed with a baby in a carrier on his back)
The view is always spectacular from on high -- looking across to the Outer Hebrides
Paris at night from the belltower of Notre Dame Cathedral (387 steps up)
From the top of the Roman theater in Lyon, France
Share with us in the comments box what you want to stay healthy enough to do.