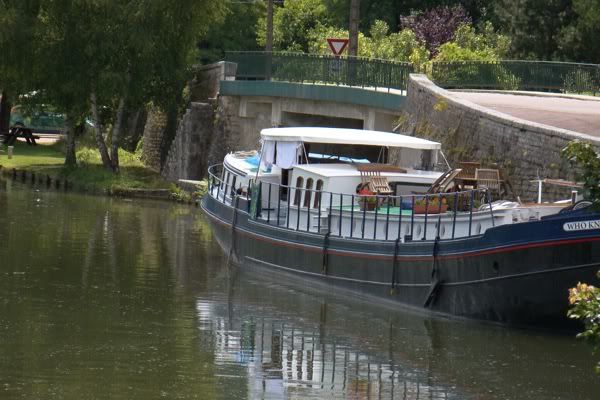 This is the kind of cruising I'd like -- slowly along the canals of France
It's time to start thinking about summer travels. Yes, another summer based in Dijon, FR. Many people might start their plans with "What should I pack?" or "What should I see?" For me, the first question of travel planning is "What should I read?" What book will whet my appetite for exploring or fill me in on the spirit of a place? What book will show me how to see with new eyes?

In scanning my bookshelves at home and the shelves in the travel section of the Big Name bookstore, a complete absence of literature by the intrepid mega-airline miles collector or the serial cruise ship cruiser becomes blazingly obvious. Writers and travelers have spilled millions of words out on trips by train, on foot, on bike, by car and just about every possible mode of transportation that exists. Yet not one has written a rousing tale about dinner companions on a head-swirling journey of nine ports in ten days. Where is the book on inspiring lessons learned from a ten-hour layover in Chicago?

According to the CLIA industry figures in 2011, 16 million people boarded a cruise ship to elsewhere, for places from Alaska to the Galapagos Islands. You'd think that one out of those millions of people had an adventure. I've yet to take a cruise or any kind of guided trip. Many friends and family members have and talk about them as the memory of a lifetime. They almost convince me, so I say, "Well, maybe we'll do a week in the Caribbean." Discovering this literary wasteland, however, makes me reconsider one more time.
There are a million books on how to choose a cruise and how to make the best of one and why you should travel by cruise ship. But there are no collections of lyrical essays by anyone who came back from one.

Last summer I wrote about how much I love the idea of "elsewhere," the momentary sense of being a stranger and having to figure out a place. No matter how short a time I spend somewhere, I love figuring out how to turn the unfamiliar into the familiar. Maybe that's why we have no cruise literature or cross-country airplane tales. It's all about the sameness. Everyone is going to the same place. Everyone follows the same routine. Airplane travel now is arduous. A trek through the Amazon is arduous, too, but one is numbing and one excites us for more. People say they like cruises because everything is provided for you. It's so easy. They fly rather than drive because it's so fast.

But where is the story in that?
Who would fly if you could travel in the comfort of French regional trains?
Right now I have on my agenda one trip to Chicago for the AWP conference, one trip to Atlanta to visit family, two trips to Nashville to catch up with friends and see my main man (Keith Urban) perform, and a summer again in Dijon. None are new destinations, but my mind is already working on what I can do or where I can go that will surprise me. What can I do that gives me a sense of "elsewhere," that wonderful tingle that all is unfamiliar?
To prepare for my travels, here are the books in my reading queue right now:
Paul Theroux
-
The Tao of Travel: Enlightenments from Lives on the Road
Theroux has collected snippets of stories and quotations of other great travelers and travel writers (including his own) on such diverse topics as railway journeys, what to pack, the joy of walking, traveling alone vs. with companions, and epic fails. It serves as a short history of the best travel writing out there.
Alain de Botton
–
The Art of Travel
I reread this every other year. One problem, de Botton, says, is when we travel we take ourselves with us. Another is we fail to ask why we are traveling in the first place. This book reminds me to reflect on these before I set out and decide how I will respond to them.
M.F.K Fisher
–
Long Ago in France
A memoir by food writer and traveler M.F.K Fisher about her newlywed years in Dijon after WWI. I love to reread it and compare her version of the city with mine. Last year, making a map out of every sentence about her home and neighborhood, I finally located the exact apartment she and her husband had rented and ate a local chicken specialty named after her neighbor who had become a popular mayor.
Maybe someone will finally give me that argument that convinces me to book a cruise. Maybe some miraculous day I'll be bumped up to business class and airplane travel will be more than a claustrophobic drudge. Meanwhile I'll keep checking the collections of travel writing looking for that elusive collection of essays from a big boat. And I'll re-watch Cary Grant and Deborah Kerr in
An Affair to Remember
. Something interesting happened to them on a cruise, I seem to recall.
Can you be the one to convince me to cruise? Tell me about it. Do you have any exciting or life-lesson airplane stories? What books have you read that make you want to get up and go somewhere? How do you get ready for a trip? Talk to me in the comments box about what excites you when you travel and what makes you want to just stay home.
The Port du Canal in Dijon -- and all the essentials for slow travel, including geraniums