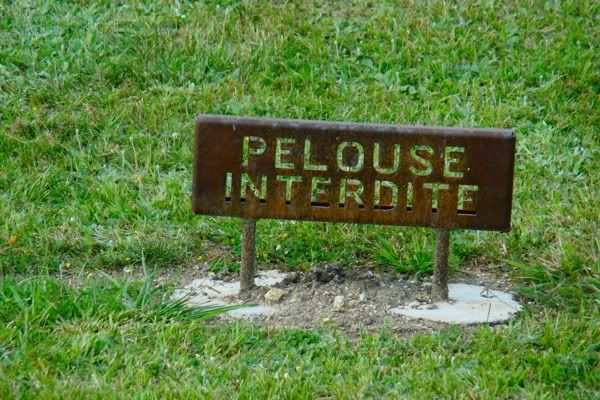 The French are serious about not walking on the grass, ever
As much as I like France, I'm not a fan of their gardening philosophy of everything manicured within an inch of their lives, "keep off the grass" signs everywhere, everything for show – all order and balance. They don't invite me to take off my shoes, wiggle my toes, and set a spell. They frequently treat the outdoors as an objet d'art rather than a place to relax and express myself.

I'm more a Gertrude Jekyll kind of gardener. I like my Russian sage intertwining with my daylilies and my grape hyacinths and daffodils coming up anywhere they please. I have a certain set of borders they stay behind and I have to watch for the tipping point when one plant might take advantage of the space of a less aggressive one, and I like a general color scheme, e.g. pastels with a well-placed bright red or purple adding a bit of spice – or even the opposite with hot colors and the pastels to soften.
Chateaux gardens rarely tempt me to come closer than this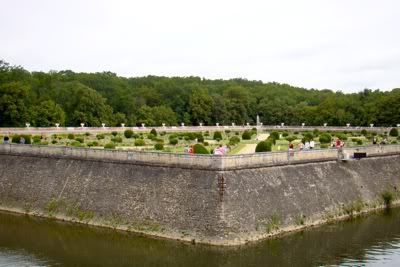 While a French formal garden can sedate me, the controlled chaos of a Jekyll cottage garden excites me to new possibilities. When I see a patch of golden coreopsis thriving in an unexpected place, instead of ripping it out because that's not where it was supposed to be, I immediately want to figure out what else I can plant there to show off all the blooms in their best light. That's how I like the country I live in, too. I love a mélange, a mix of cultures. It's possible to embrace the world without leaving the borders of the United States.

Last week I was in Sparta, GA (more about that in a later post) and found, even that deep in the South, Main Street had a Chinese take-out restaurant next to a BBQ rib joint. Yet this has been a week that has caused me to shake my head at so many instances making me feel this country is putting up more "pelouse interdite" signs.

First, during a March Madness game spectators shouted out "Where's your green card?" to a Puerto Rican player on the free-throw line. Aside from just being rude, it also showed a distinct ignorance. Quick, can anyone tell me why you don't need a passport to take your spring break in Puerto Rico? It's a commonwealth country of the United States (bonus points if you can name the other commonwealths and territories, in other words colonies, of the U.S.*). But even if the player were an immigrant from Zimbabwe, why would it be a source for taunting?
At least they said "please" this time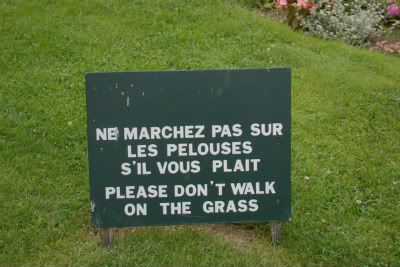 These spectators could have gotten the idea from Republican primary candidate Rick Santorum, who showed his own lack of knowledge regarding American history and law in
an interview
with a Puerto Rican journalist. His demand that all citizens of that country learn English before it could become a full-fledged US state ignored the fact that there is no federal law that mandates English as the national language. (And the fact that he uses a quotation in
Latin
to support his English-only argument? Well, I won't even go there or my rant could last for pages and pages.)
The absence of a federal law doesn't stop many states –
including my own
– from trying to pass as many language and citizen litmus laws as possible. My state legislature wants driver's license tests to be available only in English. The State Highway Patrol, by the way, is against this for many reasons, not the least of which is that they think the roads are safer if everyone knows the rules and has a proper driver's license, even if the agency has to make language accommodations for the test. Clearly the people who made this law are not the sort of people who would ever find themselves being offered a job in a foreign country (like France, par example) where driver's tests are given in only one language and it isn't yours. They have not felt the sting of discrimination.
Is America really becoming a "keep off the grass" kind of country?
As a traveler I want to experience the world, but I want the world to be kind to me and welcome me. I don't expect them to bend over backward to accommodate me every step of the way or completely alter their culture to make it more to my liking (although it would be nice if France had a bit more ethnic food offerings in the grocery store than El Paso taco shells and sauce, and had free refills on soda at restaurants, and offered more than two ice cubes per glass). For the most part, I only want to feel human warmth. I want to feel accepted and not like a "weed" that blights their garden.
So when you head out to your yard to do some spring pruning and head to your local gardening shop to pick up some flats of pansies, imagine how dull it would look if all it had were boxwoods lined up in perfect formation.
(*
If you want to learn more about U.S. "colonies," go here
.)
What will your garden look like this spring? Are you a formal garden kind of person or more the cottage garden kind? Have you ever been made to feel like a "weed" in a place to which you traveled? Share all your gardening and traveling tales in the comments box.
The redeeming French gardening habit -- an obsession with red geraniums