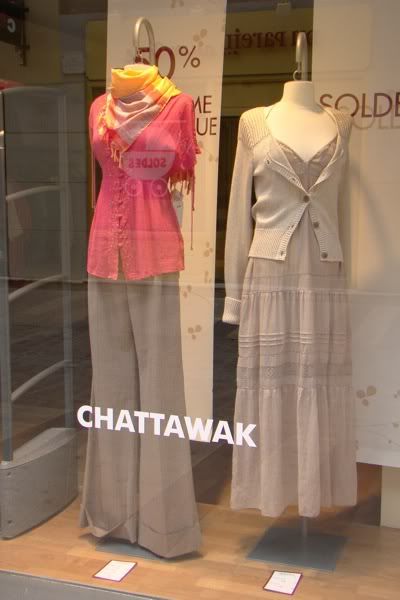 Sights along the streets of Dijon, FR
Well folks, it's that time of year. No, not the madness that hits even the non-basketball fans every March. No, not the season of green beer. Not the season of daffodils and dogwoods. It's that time of year that I start panicking that I will not be able to lose 50 lbs. before I head to Dijon, France this summer.

You don't have to be fashion-obsessed to fall under the spell of French fashion. And I'm not speaking of haut-couture here. It's just that on your first time over there you start to realize that even the toddlers chasing the pigeons are dressed better than you are. You can't walk twenty feet down a sidewalk without passing another shop window with the most graceful display of what the average Dijonnaise woman is wearing. All of the sudden I need to shop.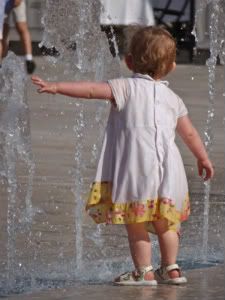 At home in the States, I won't set foot in a mall or in the clothes section of a big-box discount store until I'm desperate. Shopping is not a leisure activity for me. It's not a pleasurable activity. Nothing appeals to me. Nothing fits how I want it to fit. The store displays are a crowded mess where I trip over racks, get lost in a maze of clothes, and elbow my way through the crowds and shopping carts at the checkout stand.
Even the hangers are perfectly arranged
In Dijon, though, the clothes call out to me. On market day their bright colors wave to me in the breeze. Under the shade of a wide umbrella, perfectly arranged for ease of shopping, the clothes entice all who pass and there is always a stall vendor or store clerk to immediately find your exact size and hold your choices as you look for more.

Everything you try on looks wonderful. It's made to fit a body with drape and darts and seams arranged to make the clothes comfortable and show off your best features instead of emphasize your worst. They seem designed to fit a real, moving woman rather than a mannequin. They flatter and make you immediately feel chic and like you must spend the afternoon sitting at a sidewalk café sipping tea.

Of course, there are a few questionable fashion picks I wouldn't rush to buy (bows were really in last summer).
To make it even better, when I show up in July it is one of France's two "sales seasons" (January is the other). Everywhere you turn you see giant SOLDES signs. Each week in the month the discount gets deeper until the last week when you can shop for 70-80% off.

So who wouldn't become shopping-obsessed under those conditions?

The problem for me, though, is that I may not fit into anything I see. At home, the size I normally wear could best be described as the "smallest" size in stores and departments for "women" (read: "plus-size"). Sometimes I can find something in a regular department that's cut in a way that it feels comfortable on me. However, I can't ever depend on that size fitting me from store to store or brand to brand. Because of the insane variations in stores criteria for sizing women's clothes, I have to take three different sizes into the dressing room to find something that fits. Shopping becomes a torture instead of a pleasure.

In France, however, no matter where I am I'm the same size. Of course, the downside of that is frequently when I arrive in that country I'm at the largest size that is easily obtainable in your average French clothing store. Hence, my March panic.

Every spring about this time, therefore, I take stock. If I want to come home from France draped in this
I need to stop eating so much of this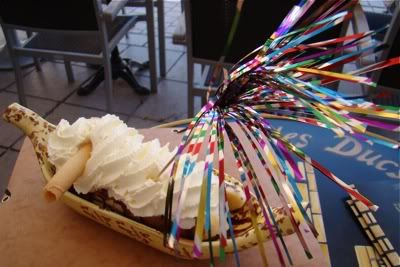 Now excuse me, I'm off to put in my Brazilian Butt Lift DVD. I need to sweat a little if I want to be able to fit into more than the scarves in France.
Do you find clothes shopping a pleasure or pain? Why? What has been one of your favorite shopping experiences when on vacation and out of your comfort zone? What is your favorite item to shop for (clothes or non-clothes)? Share your shopping stories in the comments box.
How is it possible that I've never seen what 99 million other people have watched and laughed at until they cried?! It's pure genius.