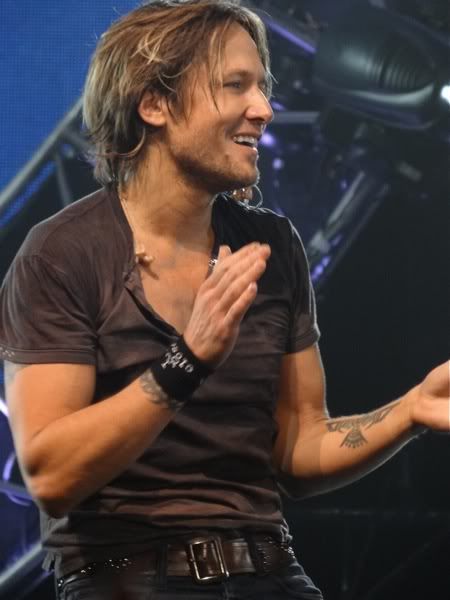 Country music singer/songwriter/guitar god Keith Urban in concert
Today I'm heading off to Nashville to see my man, guitar god Keith Urban, at the Grand Ole Opry and to meet up with some good friends. There is laundry to do and packing and gathering of snacks for the drive. While reviewing some blog ideas to work up for this post I ran through previous entries and discovered that fighting my midlife fears, as I talked about in the last post, seems to be a recurring theme for me. So while I'm gone this weekend, read about other challenges I've set for myself in the past. And I remind you – it's not always about climbing Mt. Everest.

As I finished walking Skyler around the lagoon and Grand Basin at Forest Park and was heading back to the car, my eye was caught by bright mango yellow shirts shooting into the air in a fit of randomness in the shade of tall oak trees. Despite the July St. Louis heat, a group of grade school camp kids were all exhibiting their most energetic jumping jacks before hopping on their bikes for a spin around the park.


When did I stop jumping? When was the last time that I flexed my knees and then propelled myself into the air like a rocket again and again? Do I always have two feet planted firmly on the ground? And why is that seen as a good thing? I remember hot summer nights after dinner when all the kids in the neighborhood competed to see who could bounce the highest or the most times on our pogo stick. Onetwothreefourfive . . . onehundredandfive . . . We jumped without a moment's thought to bad arches, or aching sacroiliac joints, or old knees. We pogoed the length of our street and shot into the stratosphere with little concern for balance or control . . . (Read the full story and watch the video)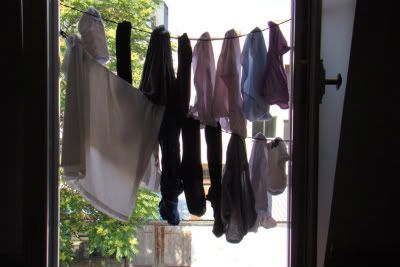 I've lived with a constant concern on laundry days that I would lose my underwear into the private courtyard two stories down and never be able to retrieve it. If I did, I just hoped it was some of my new stuff that would show me in a good light. At least the blue ones, something with color, and not the practical white Jockey ones. French women are neither shy nor practical when it comes to what is underneath – just barely.


I've felt practically puritanical while in France because my foundation is both ecologically sound (made from quickly renewable bamboo fibers) and meant to cover and be covered. Before leaving home I went shopping for a new bra with straps appropriate for wearing with the cut of tank top sleeves. And the saleslady convinced me to choose the "nude" (ugly no-color) one because it would be invisible under light-colored tops. . .
(
Read the full story
)
What everyday challenges do you set for yourself? Do you jump? Are you trying to be more daring with fashion? Who's your favorite performer or what was your best concert? Jump in and let it all hang out in
the comments box
and h
ave a great weekend!