A sign of the season in Dijon, France
I don't know about you, but I started seeing signs of Christmas in the stores long before Halloween. This weekend when driving through a small commercial stretch of a road in the suburbs I saw a store already outlined with Christmas garland. I know that it might be an attempt to stay ahead of the cold weather (images of my father wrestling with Christmas lights during a dusting of early December snow), but still the holiday is coming earlier and earlier.

Make note in your history books that Black Friday creep officially begins this year.

Christmas competition (ahhh, what a wonderful holiday tradition) has taken full hold on this nation, so instead of Big Box retailers encouraging their customers to line up well before dawn for a 6 a.m. stampede and Early-Bird Sales, many chain stores have pushed the time even earlier. They are opening at 4 a.m., midnight, even 10 p.m. on Thanksgiving Day! I shop, therefore I am.

Of course, the executives who made this brilliant decision will not be the ones leaving their families, their warm hearths, their football games, and their pumpkin pie to prepare for this. They say their employees get holiday pay, but how does that compare with the family time that they will be missing because they have to ready a store for the rushing hoards? And in this challenging economic atmosphere, would any worker dare say to his or her employer, "I'm sorry. I can't be there Thanksgiving night because my family time is sacred." I'm beginning to wonder if there is anything that this country can't turn into a chance to make or spend money.

Several years ago Brad and I were in Dijon during the fall and up to the beginning of December. At the beginning of November on that trip I began to notice oversized blue and silver draping, red banners dotted with stars, and white crescent moons being strung high across the narrow streets in the historic part of town. Sometimes, if I walked down a certain street just at dusk I'd be greeted – only for a moment – with all the decorations above me glowing brightly. Then as quickly they'd go dark. It was merely a testing of the lights.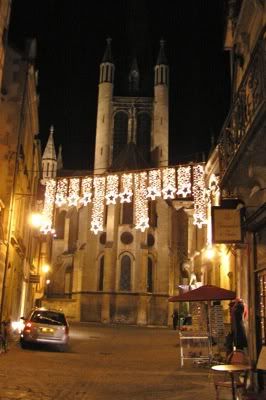 My anticipation for the coming holiday grew each day as I'd pass by another square and see signs that the city had been at work there. The shop windows may have displayed winteresque themes with snowflakes and silver stars, but Christmas had not yet arrived. In Place de la Libération a small village of wooden huts was constructed. In late November these little huts became the center of a temporarily-planted pine forest. Trees bedecked with gold and red balls stood where just a couple of weeks before children had ridden bikes and families strolled on a Sunday afternoon.
It was a true Advent. A true anticipation for the coming season. I was not being blasted with safely secular or over-produced Christmas music in store after store. The newspapers I bought were not weighted down with advertisements for all the Christmas goodies that show someone how much you loved them, like Elmo dolls or electric drills – 50% off! Television did not have a marathon of holiday-themed commercials. But when the glass walls of the market building were draped with a curtain of lights I felt like a kid on Christmas Eve.
We asked Brad's Dijon colleague when all of this Christmas cheer would come to life and he said he wasn't sure. It would be sometime the weekend we were leaving because that would be the beginning of Advent, the liturgical start to the Christmas season. With my weak French I thought I read in the local paper that something would be happening on Friday, the night before we left.
Not knowing what or where anything would happen, I dragged Brad out into the cold French night to the plaza with the carousel. It seemed as likely a place as any for a Christmas event. We hunkered down like all the locals at an outside table with hot wine and hot chocolate just before dusk, waiting for we didn't know what. It was a perfect holiday feeling. Rosy-cheeked children bundled so only their eyes and nose showed rode the prancing horses and beautiful swans of the carousel. Multi-generational families pushed strollers and chatted as they moved down rue de la Liberté. Dijon residents laughed and drank at the sidewalk cafes before going off to dinner.
Then at seven o'clock on the mark,
voilà
, the entire town center lit up in a blaze of red and blue and silver lights. Christmas came to Dijon in an instant. Everyone stopped where they were and applauded their joy at the beauty that surrounded them. A clarinet sounded in the distance as we followed the music to the temporary village in the temporary pine forest. We bought hot cider at the wooden huts and swayed to the tunes of the strolling musicians. I felt like it was a Christmas miracle that we had been there to experience the celebration.
I'll think of that perfect Christmas feeling when Black Friday creep officially begins Thanksgiving night. I hope that enough people might boycott this rampant commercialism with a "No thanks, I think I'll just stay at home with my family where I belong" so that this becomes also the death knell for Black Friday creep.
Are you one of those who have always hit the sales in the dark morning hours the day after Thanksgiving? What do you think of pushing it back to Thanksgiving night? Or do you try your hardest to avoid all the commercial hype? Share your thoughts in the comments box today.