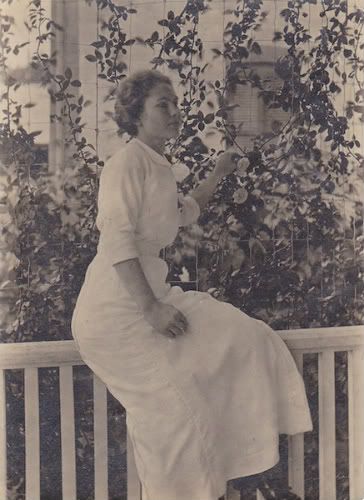 Bertha Myrtle Rule as a young woman
"Though we travel the world over to find the beautiful, we must carry it with us or we find it not." —Ralph Waldo Emerson
I stole that quotation from
August McLaughlin
and her
Beauty of a Woman Blogfest
. She celebrates the beauty in all of us with each post, but for the blogfest she asked others to join. While I was too late to enter the blogfest, it did send me back a couple of years to resurrect a piece on aging I wrote and promptly filed away. So today I join others in honoring beauty in all its forms.
I'll also try to hold Emerson's words tight as I head back to the gym to lose the weight I've gained during this five-year roadblock of pain. When I see myself in the mirrors by the free weights, I will look not at my chicken wings flapping in the breeze, but I'll use my X-ray vision to see the beautiful triceps and biceps still hiding under there – waiting to come to the surface again.
********
"You have a fit face. I wouldn't do anything to it yet," a plastic surgeon told my older sister. She and the other nurses at her hospital are always asking the plastic surgeons about different procedures. At an online news site I read this week about a 50-something woman who had an expansive list of surgeries in order to look more like her daughter.
Yesterday I looked in the mirror and for the first time noticed some newly formed canyons settling into my forehead. My options for erasing these are limited because just about everything I could plaster over them to "cure" aging would make my face break out in hives that will radiate all the way down to my stomach. But I look again in the mirror and wonder why would I want to change anything. For every plastic surgery procedure I could have, I would look less and less like all of those people I love and who made me what I am. I will never be tall, thin, and with sharply defined features.
I am my Grandma. We have a photo of her sitting on the porch railing of the house of a family she worked for most of her young life. Her father sent her there in her early teens because they had no money and her mother was mentally ill. This family took her in, sent her through high school, dressed her in the beautiful white summer dress she wore in the photo, treated her like family. And when I look at my 18-year old Grandma sitting on that porch on a summer afternoon, I see myself. And I see my sisters, all of us when we were 18. And I still see Grandma when I sit at the table for a family celebration.
Our faces are too round, and our noses are too snub. We got her thighs instead of my mom's long, thin legs. But we also got her fair, smooth skin. I know that when I'm 96 my mind will be sharp and my eyes clear. I will be a little too hard on those I care about the most, but I will also have the spirit to thrive up to the end. I'll probably be even shorter than I am now, shrinking a smidgen each year like she did.
No, I don't think I'll fight aging. Other than trying to take care of my health, adding a little hair color, and using an SPF 30 daytime moisturizer and a gentle night cream, I think I'll just let nature take its course. I like looking in the mirror and seeing all the people I've loved.
What is beauty? What does it mean to you? When do you feel beautiful? Share your own stories on the beauty of a woman then head over to August's website to read the fabulous entries.
And while we're on the subject of beauty, visit this post from April 2010 about an unexpected moment of beauty that interrupted a normally chaotic day.