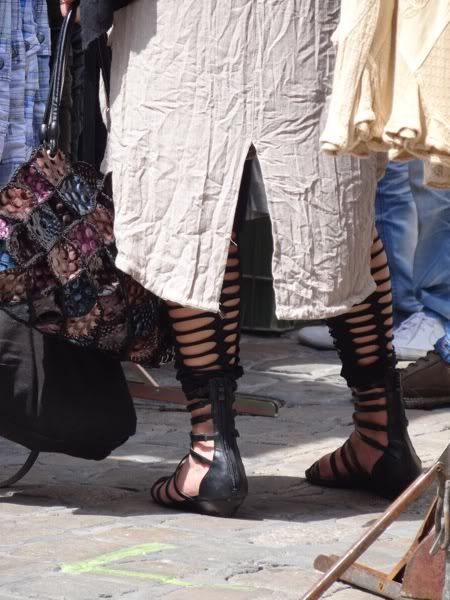 . . . gladiator sandals in France, no matter the age of the woman
"
When I am an old woman I shall wear purple
…" warned poet Jenny Joseph. She wrote it during an era that women got married, had children, managed households, cut their hair short, and wore incredibly sensible outfits. Now, we have mothers competing with daughters over who can wear their jeans tighter or their heels higher. At the opposite spectrum, I can walk into a grocery store and see so many women my age who have surrendered their style to gray fleece comfort. "Please," I pray, "don't let me look like I've given up on life."
My trips to France inspire me because I can travel the entire country and not see one woman in sweat pants or athletic shoes. They may not be dressed in purple, but they all have style, that unique sense of who they are and what they want to say with their clothes. There are not teenager clothes here and old lady clothes there in the stores. There are just beautiful clothes that make you feel like you could float down the street. Even just draping one of their colorful scarves around my neck quickens my step at home today.
The idea that you don't have to capitulate to your age is the topic of a fun blog,
Advanced Style
,

by Ari Seth Cohen. He's working on a documentary (see the video below) about the uniquely fashionable women of a certain age who stroll the sidewalks of New York City. One of his spirited characters declares "I dress for the theater of my life every day."
"Theater of my life." What a wonderful sentiment. My favorite costume ever for my own theater was a jacket I bought when I first became an assistant professor.
I bought the jacket when I first started earning real money and didn't have to shop discount. The wool-blend piece, sans lapels, was adorned with quarter-sized flat pearl buttons down the front and smaller versions on the cuffs. With bold, oversized black-and-white houndstooth checks, it trumpeted my arrival with threads of fuchsia, pumpkin orange, teal, and Easter-grass green woven through the black rows.
It marked that I had arrived where I wanted to be in my academic profession. It set me apart from the typical university wardrobe of olive tweeds and sensible shoes. I wore it over knit dresses and I wore it with skirts and slacks. I wore it to mark the blossoming of spring and I wore it to brighten a dreary winter day. And I wore it because I planned on standing out in my world. And it did the trick.

On one of the last days I wore it one of my female academic gods walked up to me at an evening party at a professional conference and told me that she like this jacket much better than the blue one I had worn that afternoon at my presentation. I was floored. Of course, I would have preferred she told me what she had thought about theories actually raised in my talk, but for now this was enough. She had been there and she knew who I was and she had noticed. Next year would be soon enough to dazzle her with my brilliant analysis of the work she had published.

But next year didn't come. I found out I couldn't have it all. The children my husband and I had adopted needed me more. I knew where I had to be. So I let go of that life I had thought was my destiny for the life that was my reality. But I couldn't let go of that jacket.

Fifteen years later it barely fits, but it still hangs there in a back corner of my closet. Some days it mocks me with what I once was; some days it reminds me of whom I could still be. But mostly it reminds me not to wait until old to live a life colored in shades of purple, or fuchsia, or teal. My daughter recently told me I was wearing "mom" glasses. I think I'll go out next week and find new frames in blue or green or leopard print. And maybe I'll buy some red shoes.
My jacket and my rainbow of scarves from France
What's in the back of your closet to remind you of another you? What do you wear that wakes you up and makes you feel young, that makes you ready to face the theater of your life? Or do you dress strictly for comfort and efficiency? Which is your favorite stylish lady in Cohen's video? Do you wear hats? What about men of a certain age and their fashion choices? Give us your fashion philosophy in the comments box.