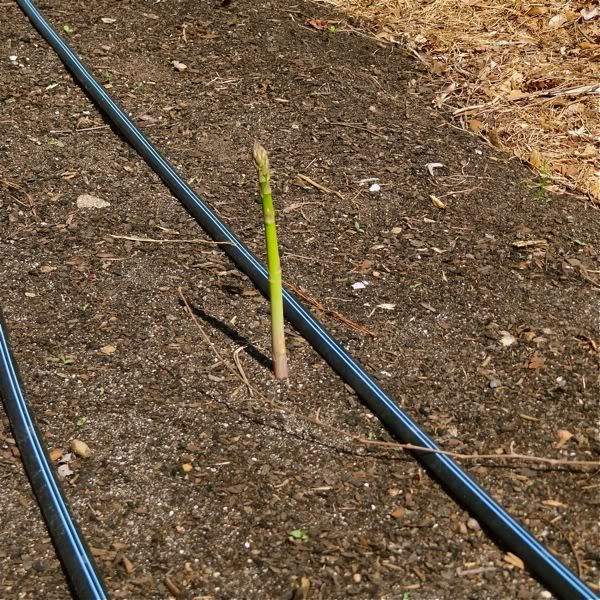 The last of the spring asparagus crop, shared four ways at lunch
Let's face it, many of us would like to be part of a revolution. We'd like to make a difference while we're still standing, but – jeez – kids have to get to sports practice and we've had three late days at the office this week and our back has been hurting and . . . .
Sometimes life as a revolutionary can sneak up on us, though.
This month my husband and I took a drive south from Atlanta down Highway 20 to Sparta, GA (population, around 2000) to spend an afternoon with his aunt and uncle. His family makes the rest of us look like slackers with their untiring work ethic and mania for creating new businesses about as often as we change hairstyles. This one takes the cake, though. Past the age when the rest of us are hoping to be retired, Robert and Suzy Currey decided to renovate a 150-year old house and take up organic farming. That's in addition to the furniture company, Currey & Co, that they still run.
It started as a garden to feed two people throughout all four seasons
They didn't start out to join a revolution. One day they went to Sparta to meet someone for lunch. They had never visited the town before, but when they saw the 4000 sq. ft. house on Elm Street they had to buy it. They also bought the 1930's bungalow next to it to live in while doing the renovations. They closed up their home in Atlanta and headed to Hancock County to fulfill a dream they didn't even know they had.

After making the 1850s house livable, they turned to the property. What they found was soil that hadn't been tilled in ages. It had sat there quietly as the compost from decaying leaves and other overgrowth nourished it. They had almost three acres of practically untouched dirt. So they began to clear the land and plant a garden that would feed them throughout a year. And that garden grew – larger and larger.

They learned organic planting and harvesting techniques by reading books and contacting every Georgia organization that supports organic farming. As each year passed they added more raised beds, then hoop houses for those vegetables sensitive to cold or summer sun. They built a shade house to experiment with growing mushrooms. And before they knew it, they had a brand new business, Elm Street Gardens, as they started visiting farmer's markets and selling weekly boxes of organic vegetables by subscription. Now they're learning how to nurture a small orchard planted in what had been the front yard of their adjacent bungalow.

Robert and Suzy have created a garden for the ages – literally. They've become a teaching space, hosting young workers who come for the summer to learn how to get back to the earth. Many people want to live a life like this, but if they didn't grow up on a farm they're not sure how to start. And the investment in land and equipment is exorbitant while trying to learn the business. Elm Street Gardens gives them a hands-on education.
I'd love to sit in the middle of the garden under an umbrella of wisteria in the summer
The founders of Elm Street Gardens have joined the revolution of those who want to eat organic and want to eat local. In the process, they've opened up their garden to the next generation of food providers. They have started a kind of "internship" by hiring a young couple to manage their property full time for a period to learn the business skills needed to run their own family farm. After a while, another couple will take their place.

In just a few short years they're looking to expand. They want to convert an abandoned furniture factory down the street into a mushroom factory, selling locally sourced mushrooms to restaurants in a part of the world that can't grow them in nature, as well as providing jobs for residents of the area. Eventually they want to start offering gardening programs so we all can learn how to provide healthy vegetables for ourselves. Robert and Suzy's goal is that Elm Street Gardens continues offering its organic bounty and training to the next generation of farmers long after they've either retired for good or moved on to yet another project.

Their style of revolution may not make the headlines, but it does show how far we can go by following our passions outward into a community. And it leaves me asking (as I do after every visit with my husband's family) what did I do with my afternoon? But, you know, the lawn needs to be mowed and I have to sort the laundry and . . . .
It's easy to imagine this was the view 150 years ago when one house supported a family, servants,
and - yes - slaves on a garden like this
How is your garden growing this spring? What do you like to plant? Have you ever started or joined a project that made you feel like a revolutionary? Tell us everything in the comments box.