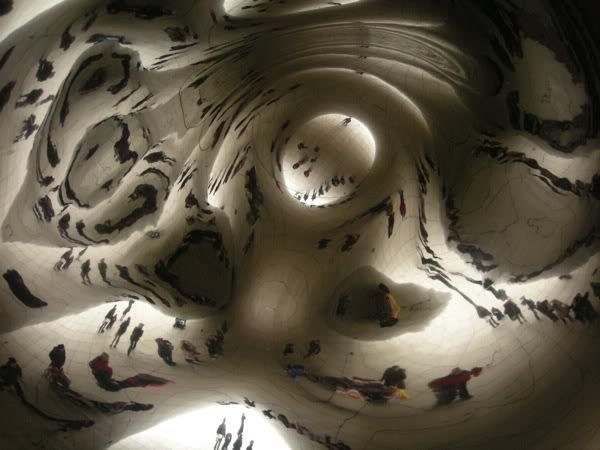 Underneath the sculpture "Cloud Gate" by Anish Kapoor at Millenium Park in Chicago.
The locals call it "the bean," as in "I'll wait for you at the bean." Our passions frequently
are as unfocused as our reflection under the sculpture.

What's your passion? How often do you get to surround yourself with the best of the best behind it? How far do you go to pursue it? This past weekend I took a step closer to my own when I flew to Chicago to attend the AWP Conference for writers and writing program directors. (Of course, the actual traveling to the Windy City was not my passion if you read any of my tweets or Facebook posts from that fateful day. It was an experience best never spoken of again.)

In this middle part of my life I'm changing courses, trying to return to the writing that had been such an essential part of my identity when I was young. It got pushed to the periphery as more and more daily responsibilities claimed its space in my life. One day the lid blew on the pressure cooker of adulthood and I pulled out a yellow legal pad and pen and started writing for survival. It came in fits and starts because I had almost forgotten how to put one sentence after another on a page.

As I wrote, I read. I started seeking out people who shared my rediscovered passion. Yet something was missing because I hadn't yet found that one thing that would push me to my A-game or focus my efforts. Except for this blog, my writing stayed hidden because (if I'm being honest) not sharing it with the world meant I didn't risk having it rejected. No rain would ever fall on my parade if I didn't leave my room.

Fear prevents many from mastering change in their lives or taking risks. Joe Robinson, author of Don't Miss Your Life, talks about this fear and its effects here. We're biologically conditioned since the days of the mastodons and saber-tooth tigers to live with fear as our default mode. It's that willingness to take risks, however, that turn us into explorers, inventors, and artists. Or even simply to change our job or try waterskiing. As Robinson points out "Fear is momentary; regrets are forever." We can pay for living with safety as a default mode with a life of boredom.

Embracing risk doesn't mean we all need to thumb our noses at it by climbing Mt. McKinley next year. For Robinson, even taking on a simmering passion like salsa dancing late in your life asks you to overcome fears, even if it is only the fear of looking foolish. Last year, I wrote about how I was making a vow to open my arms wide to failure and gather it in. With my writing, however, I stayed huddled in the back of my cave, hoping the wild beasts out there didn't see me and eat me.

There's an antidote to this fear. According to Robinson, risk is about managing uncertainty. The more you know about what you fear, the more prepared you are to take on this new challenge. You don't make your first race the Indianapolis 500. What has scared you is no longer a threat as you learn more; it becomes an act of exploration and actually changes your memory of that fear. "Each time you recall a memory and add or subtract from it, you are defanging the initial fear," Robinson says.

So I took on my fear of actually calling myself a writer and leading a writing life. When Annette Gendler, a writer and teacher of writing I had met through an online class, said, "Come to Chicago. There will be lots of writers. It will be good." I took her up on it. I put my money down and committed to wading through the waves of 8000 people I didn't know to see what life was like among those who dared to call themselves "writers."

I came, I saw, I was invigorated by the passion of all of these people following my same passion. I met and talked to people who were where I want to be. I began to understand the steps I needed to take to walk the writing path. It was like reaching the top of my first mountain. Robinson says of achieving an initial goal, "There's an extra incentive of bagging a 'first,' a distinction we can use to turn the discomfort of doing something new to its flip-side: excitement." He doesn't tell us how to maintain the momentum, but it probably involves keeping alive this new memory of success rather than the older, more entrenched memory of fear.

And maybe each week I can ask myself what will be my "first" that week – my first submission, my first new piece I start writing that week, the first time I make it around the park on my bike without pushing it up any of the hills. Salsa dancing or yoga may not be mountain climbing or hang gliding, but we're all capable of outrunning fear and regret. Notch a "first" on your belt before the month is out.

Did you start following a passion later in your life? What was the trigger that made you get up off the couch and say "I'm going to do that"? What "first" do you want to bag? Share your fears and your risks and your passions in the comments box and get us fired up to do something new and exciting ourselves.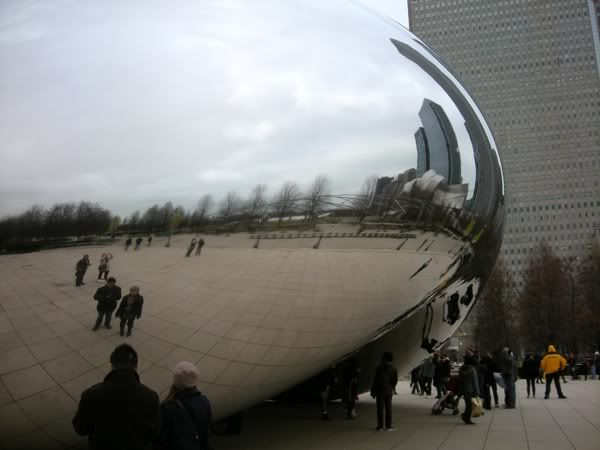 The Chicago skyline reflected in "the bean." You can see my reflection, too, taking the photo.