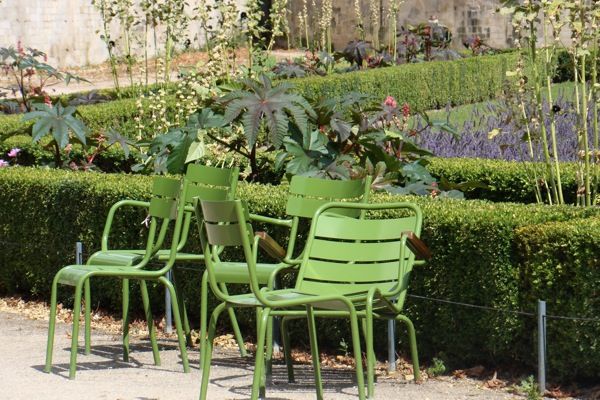 Pull up a chair at The Tuileries in Paris and read
The story of a blog.

Everybody and their dog (literally) has a blog it seems. Why would I start one if I'm not selling anything? Well, the thousands and thousands of travel photos I have stored on my computer have a little something to do with it. I had to do something with them. The rest is a bit of whim and a bit of wanting to model what I'd been reading.

Part of the WordCount Blogathon I've joined this month is a challenge to write a post about five movies that have influenced my blogging. Instead, I'm giving you the five books that were there at the start of this online journey. I hope you pick up one or more and read it.

I made the blog about three days before I left on an extended trip to France because it seemed the easiest way to keep in touch with my family and friends as well as share the hundreds of photos I take each trip. My first travel post actually had a dateline of Moline, IL (not too exotic). But even more, the blog was a place to practice the kind of traveling and writing I had been reading about. Although I've moved beyond just travel stories, all of the books that guided me at the beginning of my blog still teach me a lot about traveling through life every day.

In almost no particular order, the five books that influenced me:

1) Words in a French Life – Kristin Espinasse
I was desperate to learn French and I thought this book of little essays might be the most enjoyable way. Kristin is an American who was transplanted to Provence when she married Jean Marc Espinasse, a wine maker. Her book told little stories about trying to learn the language and the culture and about raising two children who still laugh at her very Americanized French accent. Each story came with its own vocabulary you won't learn in any tourist phrase book. It wasn't until a second pass through that I realized all of these essays came from her blog, French Word A Day. I joined her site and the extensive conversation among strangers across the world it encourages every week. I've since learned about gardening, planting vineyards, dogs, French habits, and more. Kristin's book and blog introduced me to this new way to tell little stories – the kind I like about everyday life. I had a model for the posts I would be writing for my family. Last summer had the good fortune to meet her and Jean Marc, which makes reading her blog and her subsequent "blooks" even more enjoyable. Even if you don't plan on traveling to France soon, her stories are a great way to spend a weekend there.

2) The Art of Pilgrimage – Philip Cousineau
When I asked a friend who traveled and wrote about traveling to recommend good books to read, this was one he named. Cousineau is very much about traveling with intention. When he uses the word "pilgrimage" he's not necessarily using it in a religious sense. It tells you, in very human language and anecdotes, how to travel outward into the world while traveling inward into your heart. "We need to believe," he says, "that there is something sacred waiting to be discovered in virtually every journey." It's up to each traveler to decide what that something is for himself. Rather than rushing willy-nilly through our destinations trying to see everything, he encourages the traveler to have some element to focus the trip. Since reading this book, for example, I've developed photographic themes for each trip. I've learned to look for the small moments in a day to define my visit. Yes, the mountain or chateau is grand, but the fruit tart I ate at a small restaurant nearby is the real story. Whether you're taking your family to the Gulf Coast for spring break or taking the Grand Tour of Europe, this book teaches you to travel with real meaning.
Place des Voges in Paris, a great place to write
3) The Art of Travel – Alain de Botton
This is the second book my friend mentioned. de Botton is a philosopher and writer who tells you, rather than where to travel, why and how to go. In his essays about curiosity, learning to ask questions of what we're seeing, and finding beauty he is trying to teach us to notice while we travel and not just look. I reread all or part of de Botton and Cousineau every year.

4) A Writer's Paris: A Guided Journey for the Creative Soul – Eric Maisel
It's a small book teaching us how to lead a writing life away from home. Maisel's focus is on writers, but it can work for anyone trying to nurture a creative streak. And it doesn't have to be Paris. He does give advice on how you could do this if you never leave home (although he thinks the occasional "creativity" sabbatical is a trip worth taking no matter how few days). Maisel teaches us, believe it or not, that just picking up and heading off to Paris is not enough to make us more creative. It takes planning, goal-setting, discipline. I know I haven't applied his techniques enough at home to give me blog material, but his little book points toward a creative goal of combining writing and traveling. Even if you're not a creative type, the book is a wonderful little tour of all the neighborhoods of Paris and out-of-the-way corners of that grand city.

5) The Travelers' Tales book series
I can't remember which book in the series I was reading, but all of these stories made me want to travel in a way that I, too, had something to write home about. I love that the stories range from the ridiculous to the sublime. Not every adventure requires near-death experiences. This is the series that gives out the awards I was recently lucky enough to win. I hope someday to make it into one of their editions.

So there you have it. My blog has expanded beyond telling stories just to family. However, because of thes books, I hope I grow better at telling stories for all of you, whether traveling to some far destination or just traveling through my own life.
Learning to notice, not just look
What book or movie has inspired you to take on a new challenge? Tell us about it in the comments box. If you have any travel stories to tell, by all means take the time to share them here, too.