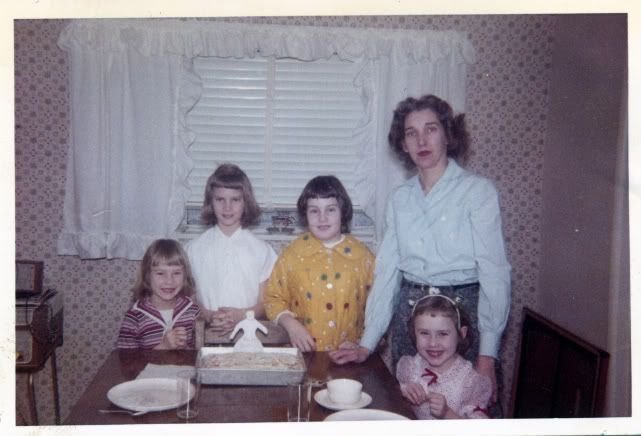 On Saturday night Brad and I had a barbecue for all the graduate students in his department, including their spouses and all their young children, plus assorted faculty members. The little ones had great fun chasing the dog around, Frisbees and footballs were thrown across the yard, and we had enough chairs and food for all.
When I was growing up I watched my mom host bridge parties, church events, and large family gatherings all the time. She did it with ease, or at least from my perspective it always ran smoothly. She taught me how to make everyone feel at home. She taught me to do the best I can to prepare, but don't sweat the problems. I remember one Thanksgiving dinner when our dog was over-eager to get a bite of that turkey dinner. She knocked the gravy boat with her nose as it was being passed around the table and all that sticky liquid poured down her head. Even Mom laughed as we just continued on with our celebration (although we were a little short on the sauce for our mashed potatoes).
She taught me that nothing was more enjoyable than opening our home to others. So whether it's for 4 or for 50 people, I have no problem volunteering. And as I bustle around the kitchen setting out the serving trays and counting the silverware I feel her working right beside me.
In honor of Mother's Day, tell us what your mother taught you. Please share in the comments box.

While thinking of Mom I revisited this post in which I wondered what might have been on her mind even if no one bothered to ask her. Read it and tell us what would you ask your mother.

5 Questions I'd Ask My Mom
Short of winning the lottery and giving it all to her, I'm not sure what I ever could have done to have honored her properly. Diamonds? Brunch at the Ritz-Carlton? A Wii Fit? Now that I've been a mother for fifteen years, however, I think that maybe the greatest gift I could have given her was my undivided attention as she told me her story. She deserved to be more of the foreground rather than the background of my life. If Mom returned here for just one day so that I could get it right, I would make sure I asked her these five questions (in no particular order).
(
continue reading
)