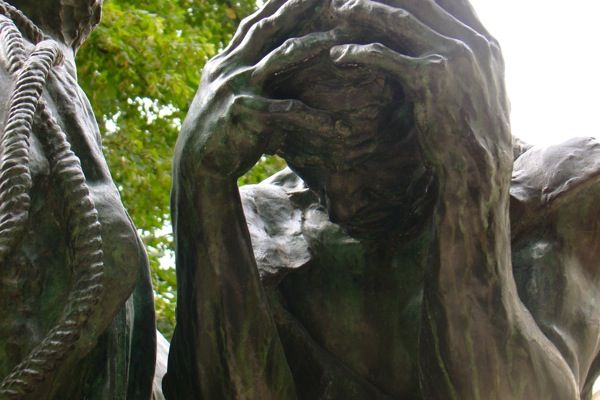 Either he has a migraine (like I did yesterday) or he's fretting over his bad habits
(figure from Auguste Rodin's Burghers of Calais)
"Anything one does every day is important and imposing and anywhere one lives is interesting and beautiful."
-- Gertrude Stein

What do you do every day that makes your life better, or what do you wish you would do every day?

I certainly know what I do every day that makes my life less good – eat fast food, surf the internet too long, get distracted from my writing (you have no idea how urgent laundry becomes when faced with a blank Word document page).

For Gretchen Rubin, author of The Happiness Project and its companion website, this is a fundamental question. Last week one of her posts proposed we do something every day. It's about developing habits. If there is something we feel would make our lives better, we should do it every day. If we say we'll do it two or three times a week (exercise, for example), it's too easy to argue ourselves out of it by saying "I'll do it tomorrow."

If something is important to you, make it a daily habit, Rubin says.

I'm still trying to do that with my various writing projects. Daily extended writing does not yet sit at the top of my priorities although I know it should. Worrying that I'm not doing the writing, unfortunately, is currently holding that exalted place. Writing seems to be my "daily something" right now that I wish I were doing. Perhaps fear of some sort keeps me from making it "important and imposing." That's why I took on the blog challenge. It should strengthen my writing habit.

In other words, I need a more productive habit than the habit of chastising myself for not having a disciplined enough writing habit. For me, exercise is one of those things that I can make time for every day. On Tuesday I drove to the gym at 6 a.m. when the rain was pouring down so violently it was like a curtain draped across my windshield. Perhaps that's because any day I don't exercise I feel an immediate effect on my muscles and joints. Before my surgery last fall it was all that kept me going, and after the surgery it's absolutely necessary in order for me to recover and stay mobile. If I don't write, however, I don't feel that immediate pain. I let it slide and say that I'll catch up tomorrow. I won't forget the brilliant idea I had today. Yeah, right.

Now that my body is healing from surgery, I have no excuse for not adding daily writing (blog and non-blog) to my routine. And if I'm busy implementing all these good habits, maybe I'll have no space for those bad ones. They say you have to do something for 21 days in a row before it becomes regular practice. With this 30-day writing challenge I should nail it this time.

Come back tomorrow and I'll tell you what else the experts say about developing good habits besides doing something for 30 days.

Talk to me in the comments box about how you developed daily practices. Which ones do you wish you did better? Which elude you completely? Give us all your suggestions on how we can achieve these habits that are so hard to form.

At the end of 30 days I'll do this to my bad writing habits