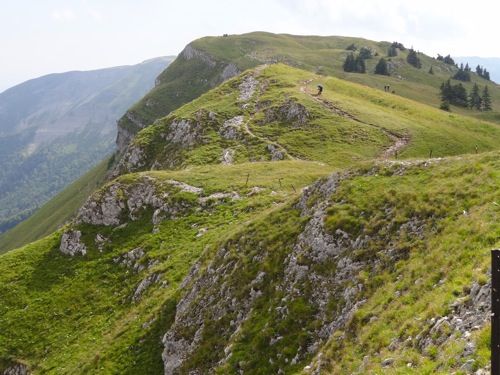 At midlife good health can seem like hiking an endless path
Yesterday I got on a bike. And promptly fell off. Flat on my back onto my camera bag. In the parking lot at the head of the bike trail. In front of people wearing all kinds of serious biking attire and swilling packs of energy gel. What can I say?

It had been well over a year since I had pulled out my bright red K2 bike. At the time my arms and hands would quickly go numb and it didn't take long for my lower back to seize up, all due to my degenerating cervical disks. And the last time I had ridden, my gears acted up and went all off track. When I tried to stop I went down hard in the street.

And now it was happening again on my first time back in the saddle. Somehow in the past year the seat on my bike had been raised, so as I started to pedal everything was all off balance. In trying to dismount and fix it, down I went.

The New Normal of Midlife
This recovery after surgery – adjusting to a "new normal" – some days makes me want to curl up on the couch with a peach cotton throw over my feet and NCIS marathons on the television. And it wouldn't be too hard. Face it, I'm past fifty years old and no one expects much of women my age. When most women pass the half-century mark and talk about their aches and pains (and believe me, they're never shy about it), they shrug their shoulders with a "Whatcha gonna do?" attitude.

No, I won't ever get back to where I was. I won't be riding any roller coasters unless I want more neck surgery. Heck, at this stage of the game even falling asleep in a chair and letting my head droop forward makes everything hurt. But I hit the gym or hit the yoga mat at home almost every day. It won't make me look 35 again; it won't even make me feel 35 again. But it's something.

At midlife it's so easy for women to give in to health inertia. We're pulled in so many directions every day. We're tired. We feel guilty focusing on ourselves instead of those around us. We feel invisible so why does all this focus on exercise even matter? The top 3 health issues for women – heart disease, cancer, and stroke – however, can all be controlled by lifestyle changes.

With my addiction to fast food French fries, I'm constantly searching for inspiration for a more healthy lifestyle. Bloggers Nadine Feldman and Jackie Dishner are two women who have found many ways to energize this midlife stage. They've decided not to sit home, invisible, talking of aches and pains. I read them and decide to push ahead with getting strong again.

And so I get back on the bike and take off down the path. It's a hot day, but the sky is blue and my legs are strong. This is what healthy feels like after so many summers of weakness.

What Can You Do?
Every step toward good health doesn't have to be grand gestures. Go to your doctor and have that long-delayed checkup. Stop smoking. Shoot for losing 10% of your body weight if you want to see significant health improvements.

On a daily basis, though, there are 5 immediate steps you can take to get past a woman's sluggish attitude toward health that makes midlife feel like inevitable decline.

Reduce Stress

Stress and anxiety play havoc with health. They weaken the immune system. They strain the heart and blur the mind. It needs to be controlled by therapy, by laughter, by rest, by exercise. Find healthy ways to bring it down to a manageable level and you'll add years to your life.
Get Enough Sleep

Many women start their sleepless nights with the birth of their first child. It doesn't stop as the children grow. They have work at the office, managing their children's schedule, caring for elderly parents. They are doing the laundry at midnight. However, sleep deprivation can lead to heart disease, depression, and weight gain to name a few effects. To be healthy, you must have a regular sleep schedule.
Move

The body was made to move, not sit in front of a screen all day. It needs cardio for the heart and weight-bearing exercise for muscles and bones. A strong body helps hold off the ill effects of such problems as arthritis or osteoporosis. It helps hold weight down. It improves balance so fall aren't as much of a problem as you age. Find what makes you happy and do it. It's not about becoming an athlete; it's about moving too fast for old age to catch you.
Eat more green, less fat

You don't need to make an immediate shift to veganism. Just make small improvements each week in your diet. I won't give a treatise on good nutrition. But it's about portion size. It's about eating less processed food. It's about eating more vegetables and fruits and less fatty foods. And this is the one thing that I battle day in and out. It's not easy after a lifetime of fast-food taste buds, but it's essential.
Follow a passion that makes you grow

Do something on a regular basis that fully engages you, from finishing crossword puzzles to finishing marathons. It's about keeping the heart and mind engaged. The happier you are the long the life-expectancy. This seems like the easiest to do, but women are conditioned to give it all to everyone else. For some, following their own passion could be more difficult than giving up chocolate.
What steps would you recommend to make midlife less of a drag and more energized? What are your plans for putting off feeling the effects of age? Share all your secrets in the comments box.